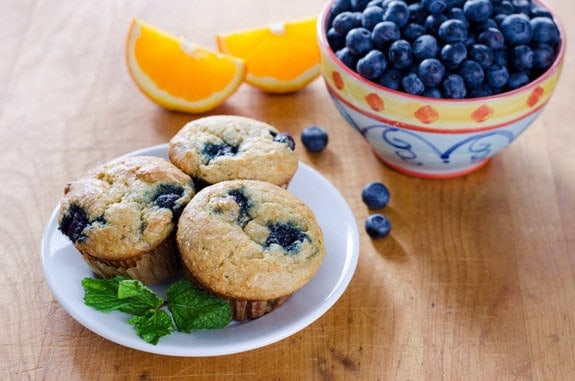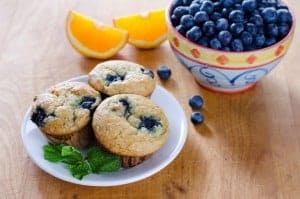 Paleo Orange Blueberry Muffins
Ingredients
200 grams almond flour (about 2 cups)
1/2 teaspoon baking soda
1/8 teaspoon salt
zest of 1 orange
3 eggs
1/4 cup honey
2 tablespoons ghee, melted (see notes for substitution ideas)
1 tablespoon orange juice
1 cup fresh blueberries
Instructions
Preheat oven to 325 degrees and grease or line muffin tin.
Combine dry ingredients and orange zest in large bowl. Combine wet ingredients in medium bowl. Stir wet ingredients into dry ingredients, then fold in blueberries.
Using a large ice cream or cookie scoop, fill muffin cups 3/4 full.
Bake for 20 - 25 minutes, until golden brown and toothpick inserted in center comes out clean. Cool on wire rack.
Notes
Yield: 8-9 muffins It's important to use fresh blueberries. Frozen berries tend to be too wet, and add too much moisture to the batter.If you don't have or use ghee, butter would be the closest substitute. Coconut oil will also work, but it will change the flavor slightly adding a hint of coconut.
Recipe by gfe--gluten free easily at https://glutenfreeeasily.com/gluten-free-orange-blueberry-muffins-cook-eat-paleo/