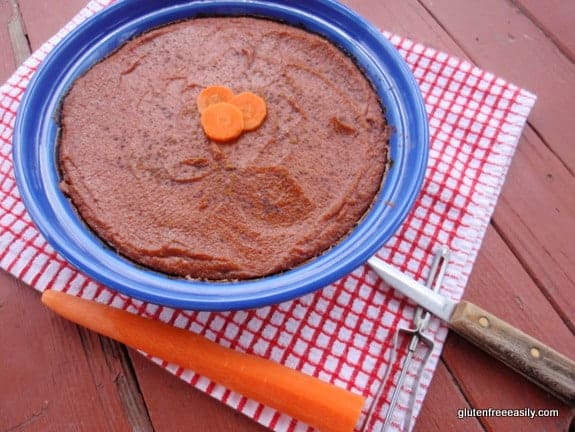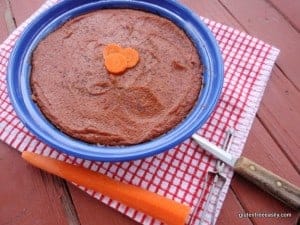 Paleo Crustless Carrot Pie ("Faux Pumpkin" Pie?)
Ingredients
2 cups carrot puree (from about 3 cups steamed or boiled carrots; about 1 lb carrots I *think*)
2 eggs (see notes for egg-free options)
¾ cup coconut sugar
½ tsp salt
1 tsp cinnamon
½ tsp ground ginger
½ tsp ground nutmeg
½ tsp ground allspice
1/8 tsp cloves
1 cup full-fat, canned coconut milk
¼ cup coconut flour, sifted (I use this brand)
cinnamon, enough for sprinkling if desired
Instructions
Preheat oven to 425 degrees F. Grease pie plate and set aside.
In large bowl, beat eggs slightly and then mix in remaining ingredients.
Pour filling into greased pie plate. (It will be thick so you'll need a spatula.)
Sprinkle with cinnamon, if desired. (It doesn't really show up against the dark colored background, but it does provide additional flavor.)
Bake 15 minutes.
Reduce oven temperature to 350 degrees F. Bake until knife or toothpick comes out clean, about 45 minutes longer.
Notes
Use a food processor to make your carrot puree. (A hand masher or hand mixer will not be sufficient.) Processing will only take a few minutes. Steamed carrots provide the most nutrients. If you boil your carrots instead, save the water to make smoothies later. Flax gel eggs or chia gel eggs always work well in my crustless pie recipes. Pumpkin pie spice or apple pie spice may be substituted for the total measurement of the individual spices.
Recipe by gfe--gluten free easily at https://glutenfreeeasily.com/gluten-free-paleo-crustless-carrot-pie-faux-pumpkin-pie-version-one/