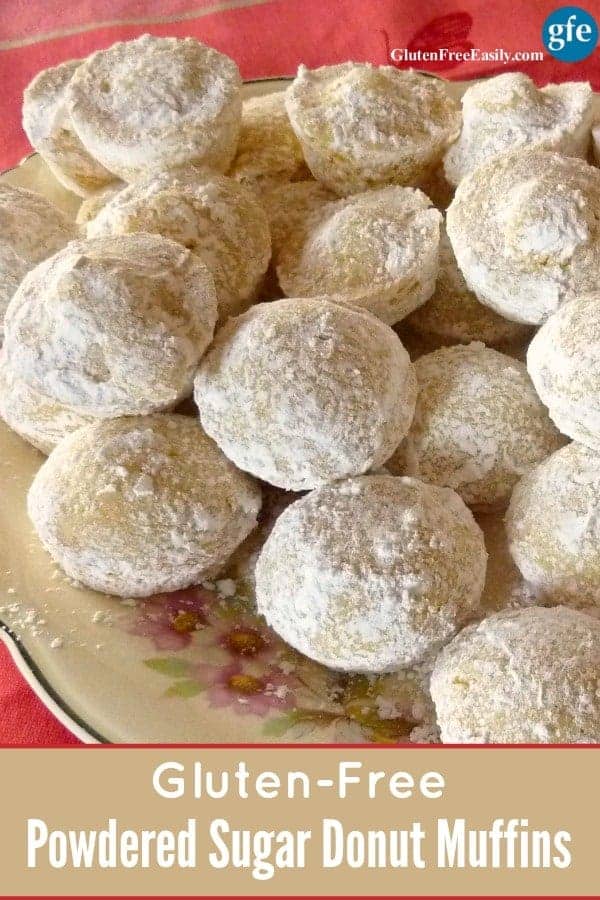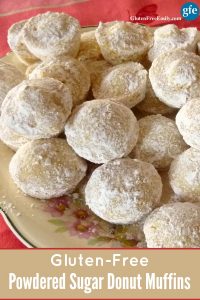 Gluten-Free Powdered Sugar Donut Muffins
These gluten-free Powdered Sugar Donut Muffins are the gluten-free version of those tasty Hostess Donuts, sometimes called Donettes. These are easy to make and every bit as good as those original little snowy white powdered sugar donuts. Great for breakfast or packing in lunches for treats.
Ingredients
¾ cup white rice flour (see notes on using gluten-free flour mix)
½ cup cornstarch
¼ cup sweet rice flour
¾ cup granulated sugar
2 teaspoons baking powder
¼ teaspoon salt
¼ teaspoon ground nutmeg (or cinnamon; optional, see notes)
¾ cup milk (dairy or non-dairy)
¼ cup vegetable oil
1 large egg
1 package (1 pound) powdered sugar, sifted (I use far less; see notes)
Instructions
Preheat the oven to 350ºF. Lightly grease the cavities of a mini muffin pan with nonstick cooking spray.
In a medium bowl, whisk together the dry ingredients (except for powdered sugar). Add the wet ingredients and whisk to combine. The batter will be thin.
Fill the muffin cavities about half to three-quarters full. Bake for 15 to 25 minutes, until the muffins are golden brown. While the muffins are baking, fill a large bowl or 8-inch square baking dish with the powdered sugar.
Remove the muffins from the oven and working in batches, place them directly into the powdered sugar. Gently roll the muffins in the sugar to cover them. The steam from the hot muffins will make the sugar stick to the muffins.
Remove the muffins from the sugar and tap off any excess. Transfer the muffins to a wire rack to cool. Store in an airtight container for up to 3 days or freeze for up to 1 month.
Notes
I used 1 ½ cups of my Two-Ingredient Gluten-Free Flour Mix to replace the individual flours and starches.
I omitted the nutmeg. Personally, I love nutmeg in a limited number of recipes, but prefer cinnamon in others. I've both used cinnamon in this recipe and left it out. Either option works fine.
While the original recipe called for a whole box of powdered sugar, I used far, far less. Maybe about ¾ cup to 1 cup. As a result, my donut muffins are not perfectly "snow white," but they are still plenty sweet. Be sure to sift your powdered sugar. There will be no clumping and the powdered sugar will stick much better, which results in a nicer presentation.
Recipe reprinted with permission from Elizabeth Barbone and Fair Isle Press.
Recipe by gfe--gluten free easily at https://glutenfreeeasily.com/gluten-free-powdered-sugar-donut-muffins/