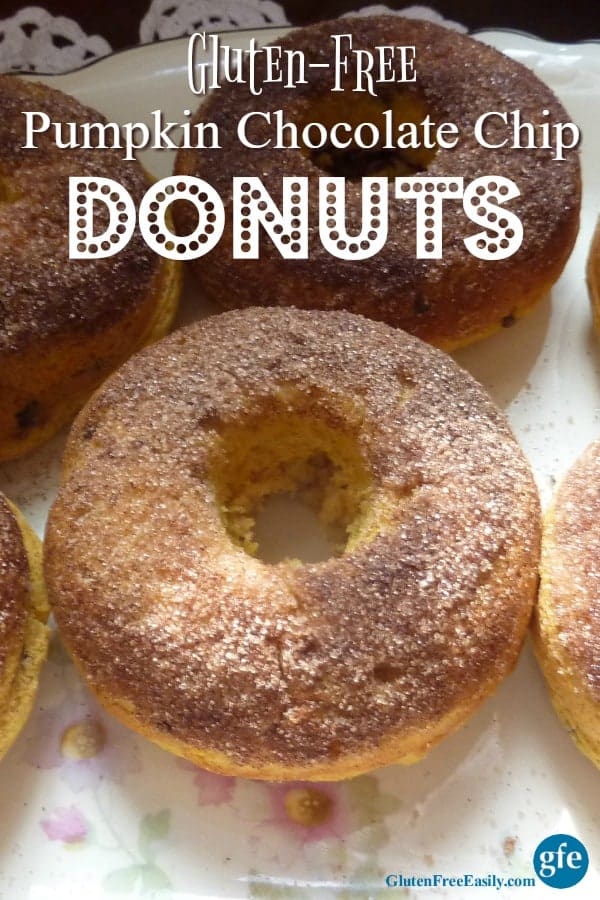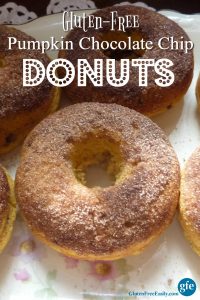 Gluten-Free Pumpkin Chocolate Chip Donuts
These Pumpkin Chocolate Chip Donuts are so good! They have a light pumpkin chocolate chip slightly cheesecake taste accented by cinnamon-sugar. It might sound like a wacky combination of ingredients, but I assure you that it's a perfect one!
Ingredients
Additional Ingredients
Changes to Johnna's Ingredients
Instead of the cup of ricotta cheese, use 3/4 cup ricotta cheese and 1/4 cup pumpkin butter.
Omit the granulated sugar and add in mini chocolate chips.
Instructions
After mixing all the ingredients, spoon the batter into a well-greased donut pan.
Bake the donuts at 350F for about 10 to 12 minutes. Test for doneness with a toothpick.
Melt about 2 tablespoons of coconut oil (or other light oil) and dip the "uglier" top of the donuts (or both top and bottom, if you wish) first into the coconut oil and then into cinnamon-sugar mixture.
Cool long enough for donuts to firm up just a bit.
If eating later, I recommend warming in the oven or in the microwave as these donuts really impress when they're warm. That said, I have no problem eating them at room temperature when warming is not an option. 
Recipe by gfe--gluten free easily at https://glutenfreeeasily.com/gluten-free-pumpkin-chocolate-chip-donuts-doughnuts/