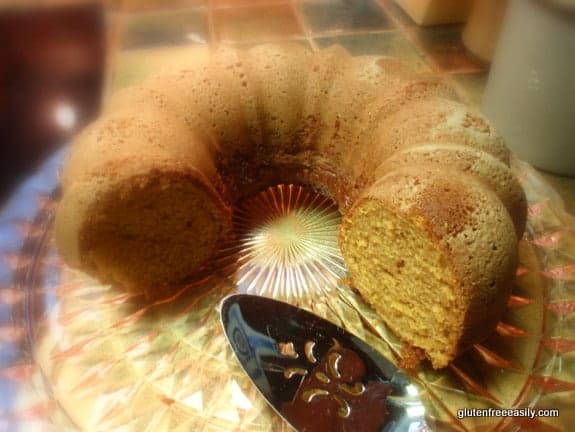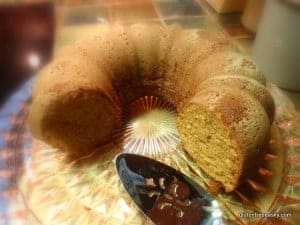 Gluten-Free Pumpkin Spice Bundt Cake
Pumpkin butter turns this gluten-free Bundt cake into something very special. A piece will be just right to go with your cup of tea or coffee ... or a glass of milk! (Note that one reader uses canned pumpkin and adds pumpkin pie spice instead of pumpkin butter.)
Ingredients
Cake Ingredients
2 ¼ cups gluten-free all-purpose flour mix (I use my Two-Ingredient Gluten-Free Flour Mix)
1 tsp baking powder
¾ tsp baking soda
2 ¼ tsp xanthan gum
1 cup granulated sugar
¾ cup brown sugar or coconut palm sugar (I used the latter; hence, the darker color of this cake)
¾ cup pumpkin butter
¾ cup vegetable oil (I used extra virgin olive oil, but coconut oil would be great)
1 cup buttermilk or sour milk (dairy or non dairy; I added 1 tsp apple cider vinegar to 1 cup measure; filled with full-fat coconut milk and let sit 5 minutes)
3 large eggs
Penuche Frosting Ingredients
Penuche Frosting (optional; I didn't use any as you can see, but this frosting is something special)
½ cups brown sugar (or coconut palm sugar)
3/8 cup milk ("eyeball" it; dairy or non-dairy)
3/8 cup butter (dairy or non-dairy) or shortening
¾ tsp vanilla extract
Instructions
Preheat oven to 350 degrees Fahrenheit. Grease Bundt pan (or two loaf pans). Flour if you like as well. (Flour with rice flour or gluten-free all-purpose flour. )
Sift together gluten-free all-purpose flour mix, sugar, baking powder, baking soda, and xanthan gum.
Add brown sugar, pumpkin butter, oil, and buttermilk (or sour milk).
Beat for about 2 minutes by hand or using a mixer.
Add eggs and beat until well mixed.
Pour into greased (and floured) Bundt pan. (Two loaf pans will also work.) Use gluten-free all-purpose flour mix or plain rice flour to flour your greased pan.
Bake for about 40 minutes. Test for doneness with a toothpick.
Frost with Penuche frosting, if desired. (Ingredients are shown above.) Add butter to medium-sized saucepan. Melt over medium low heat. Add in brown sugar and milk. Bring to a boil, stirring constantly, for one minute. Remove from heat and beat until lukewarm. (A wooden spoon works fine for this task.) Add ¾ tsp vanilla extract and beat until thick.
Notes
I use my Two-Ingredient Gluten-Free Flour Mix in this recipe but you can use your favorite gluten-free flour mix. If the mix you use already includes xanthan gum, please omit the xanthan gum in this recipe.
One reader uses canned pumpkin and adds pumpkin pie spice instead of pumpkin butter.
Adapted from a recipe from my friend Lisa Anderson
Courses Dessert
Recipe by gfe--gluten free easily at https://glutenfreeeasily.com/gluten-free-pumpkin-spice-bundt-cake/