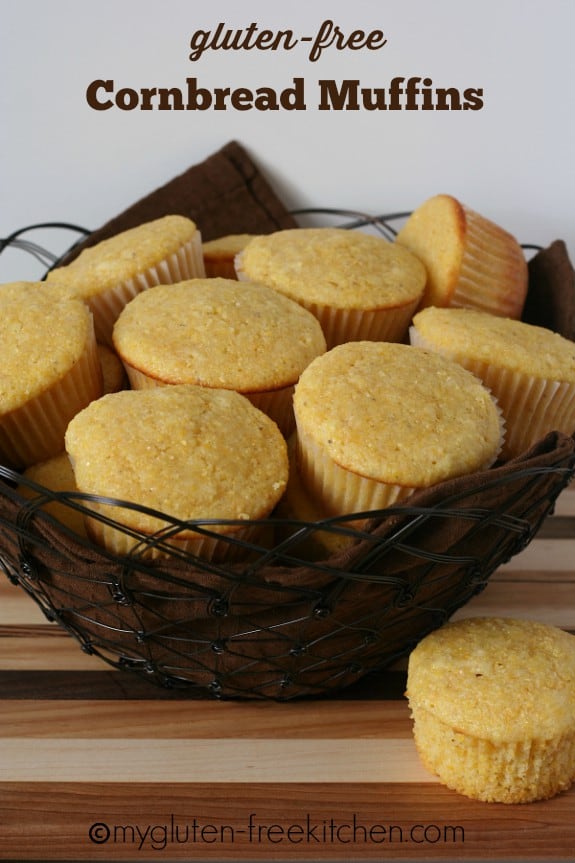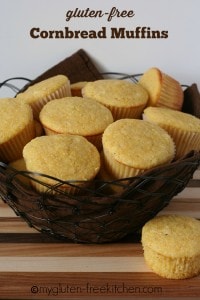 Classic Sweet Cornbread Muffins from My Gluten-Free Kitchen
Yield 24
Ingredients
1 cup melted butter (2 sticks)
1 ⅓ cup sugar
4 eggs
2 cups buttermilk
1 teaspoon baking soda
2 cups cornmeal (see notes)
2 cups all-purpose gluten free flour (I use Jules)
1 teaspoon xanthan gum (omit if flour blend already has xanthan in it)
1 teaspoon salt
Instructions
Spray muffin tins with non-stick cooking spray or line with paper liners.
In a glass measuring cup, measure buttermilk then add baking soda, mix together and let sit.
In a large mixing bowl, melt butter in microwave. Add sugar and use a spatula or wooden spoon, to mix into butter. Add eggs.
Add buttermilk/baking soda to the butter/sugar/egg mixture and mix just until combined.
In a separate bowl, whisk together cornmeal, flour, xanthan and salt. Add to wet ingredients and stir until well mixed.
Fill muffin tin cavities mostly full with batter, filling 24 cavities. Bake at 375º for 14-17 minutes or until a toothpick inserted in center comes out with crumbs only and muffin top doesn't sink in if pressed with fingertip.
Cool in pan for 2-3 minutes. Remove muffins from pan to cool on a cooling rack until ready to serve.
Notes
If 24 muffins is way too many for your family to eat, simply place extras in a resealable freezer bag and freeze for another day! You can also halve the recipe for a dozen muffins.Shirley here: Be sure to use gluten-free cornmeal. I like the gluten-free cornmeal from Nuts.com.
Courses Breakfast, Bread
Recipe by gfe--gluten free easily at https://glutenfreeeasily.com/gluten-free-sweet-cornbread-muffins-my-gluten-free-kitchen/