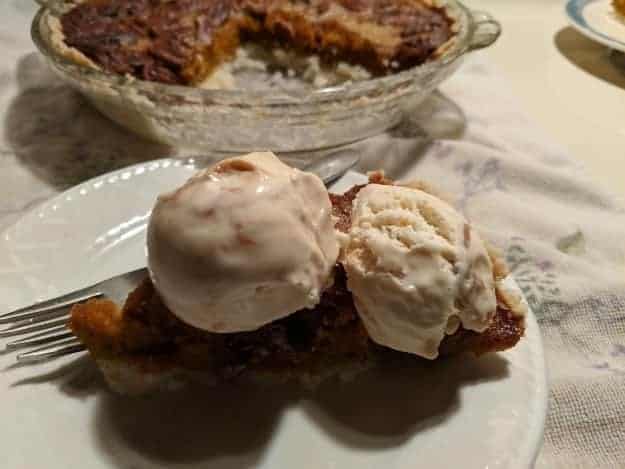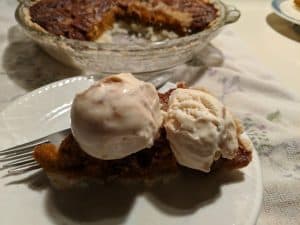 Gluten-Free Sweet Potato Pecan Pie
With this pie---especially if you love both Sweet Potato Pie and Pecan Pie—you get a two-for-one deal! No need to choose Sweet Potato Pie or Pecan Pie. Or both and then have to cry "enough" and stop eating pie. No need at all!
Instructions
In a medium-sized bowl, slightly beat one egg. Add mashed sweet potato, 1/3 cup granulated sugar, and pumpkin pie spice. Mix well.
Pour mixture into an unbaked gluten-free pie crust (like this one) and smooth out with a spatula.
Beat remaining two eggs in small bowl. In same medium-sized bowl which you just emptied, add eggs, honey, ½ cup granulated sugar, butter, and vanilla extract. Mix well.
Stir in pecans. Spoon over sweet potato mixture. Spread and smooth out with a spatula so that pecans are evenly disbursed.
Bake at 350F degrees for about 40 to 45 minutes or until filling is set. (Be careful not to overcook this pie.)
Cool.
Top with ice cream or whipped cream (store bought or homemade), if desired.
Notes
While I love making pies crustless, this recipe requires a crust. I like to use my Never Fail No-Roll Press-In Pie Crust.
If you would like to make this recipe refined sugar free, coconut sugar may be substituted for the granulated sugar.
Using chopped pecans (instead of pecan halves) in this pie makes cutting pie slices easier and cleaner and hence, the pie presentation prettier, in my opinion.
Recipe adapted from this gluten-free Pumpkin Pecan Pie recipe.
Recipe by gfe--gluten free easily at https://glutenfreeeasily.com/gluten-free-sweet-potato-pecan-pie/