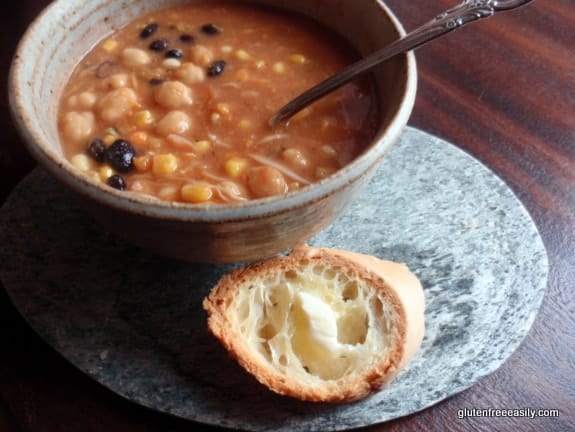 Sweet Potato, Cabbage, Bean, and Veggie Soup
This soup is full of flavor and textures, and it's delightful! Shredded cabbage gives this soup a little crunch and even a bit of a noodle vibe without actual pasta.
Ingredients
2 to 2 ½ cups tomato juice, regular or spicy (vegetable juice like V-8 or Bloody Mary mix)
2 cups vegetable broth (you can use chicken broth if you are not vegetarian/vegan)
2 sweet potatoes, cooked and mashed (I used my hand masher)
2 to 3 cups finely shredded cabbage (I used old-fashioned cole slaw mix, which was simply cabbage and carrots)
1 can black beans (or equivalent amount of fresh cooked black beans), about 16 ounces, rinsed and drained
1 can chickpeas (garbanzo beans; or equivalent amount of fresh cooked chickpeas/garbanzo beans), about 16 ounces, rinsed and drained
1 can corn (or equivalent amount of fresh or frozen corn kernels), about 12 to 16 ounces, rinsed and drained (optional ingredient, but preferred)
1 ½ cups coconut milk (either canned or from carton)
Instructions
Combine all ingredients in large stockpot.
Bring to a boil on stove top.
Reduce heat to a simmer for about 10 to 15 minutes until warmed through. (If you want a thicker soup, use your immersion blender once or twice in the stockpot for about 15 to 30 seconds at a time.)
Stir and serve.
Notes
If you want to substitute ingredients from your pantry for the Bloody Mary Mix, I think that diced tomatoes, carrots, celery, onions, garlic, lime juice, horseradish, celery seeds (and/or celery salt), molasses, and hot sauce would be a good start. You can even add some gluten-free Worcestershire sauce if you find one that meets your needs (e.g., vegan). You could also use a spicy vegetable juice (ready-made or homemade) in combination with diced or pureed tomatoes in place of the Bloody Mary mix for a soup with less complex flavors. I'd definitely recommend the use of an immersion blender near the end of your cooking time if you are adding diced or larger pieces of tomatoes. The finely shredded cabbage in this recipe creates a nice crunchy "noodle" effect.
Courses Soup, Main
Recipe by gfe--gluten free easily at https://glutenfreeeasily.com/gluten-free-vegan-bloody-mary-sweet-potato-cabbage-noodle-bean-veggie-soup-for-meatless-monday/