For affiliate links and as an Amazon Associate I earn from qualifying purchases.
Fall. Pumpkin, pumpkin, pumpkin, apple, soup, chili, maybe a slow cooker meal, crisp fall blue sky energizing days alternating with chilly rainy I-don't-want-to-leave-home days, baking and loving leaving the oven door open afterwards, the return of socks/slippers/clogs alternating with a few flip flop days, hoodies … oh, you know all about fall. It's glorious, isn't it?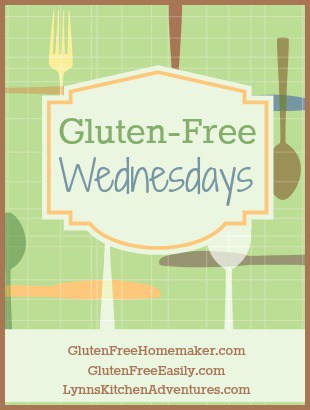 So here we are at Gluten-Free Wednesdays (GFW) where you'll find all kinds of gluten-free eating ideas—some that will make your fall fabulous and others that will be worth using all year long! GFW is the weekly blog carnival that I co-host with my friends Linda of The Gluten-Free Homemaker and Lynn of Lynn's Kitchen Adventures. If you're a blogger, please link up your gluten-free eating ideas (following guidelines at the bottom of this post). Link up to any one of our GFW posts and your submission will show up on all three of our blogs. Plus, each week my co-hosts and I feature the readers' favorite post and share the ones that caught our eye.
If you want to see and hear more from each of us, here are our blog and other social media links:
Shirley (me) – Blog Updates (gfe and All Gluten-Free Desserts), Facebook, Pinterest, Twitter, Google+
Linda – Blog Updates, Facebook, Pinterest, Twitter, Google+
Lynn – Blog Updates, Facebook, Pinterest, Twitter, Google+
My Highlights from gfe and All Gluten-Free Desserts
~ On gfe:
Butterscotch Tassies from Sweet & Simple Gluten-Free Baking Cookbook with Giveaway ~ If you don't know Chrystal of Gluten-Free Palate, let me introduce you. She creates those recipes that we all used to love before going gluten free and, yes, she makes them gluten free (and often dairy free). Recipes like Tassies, Red Velvet Cake, Carrot Cake, Pineapple Upside Down Cake, Pumpkin Pie, and Russian Tea Cakes. And she introduces us to new recipes like Turtle Brownies, Chocolate Shortbread Tarts, and, well, read the post and grab Chrystal's Tassies recipe and enter the giveaway for her new cookbook!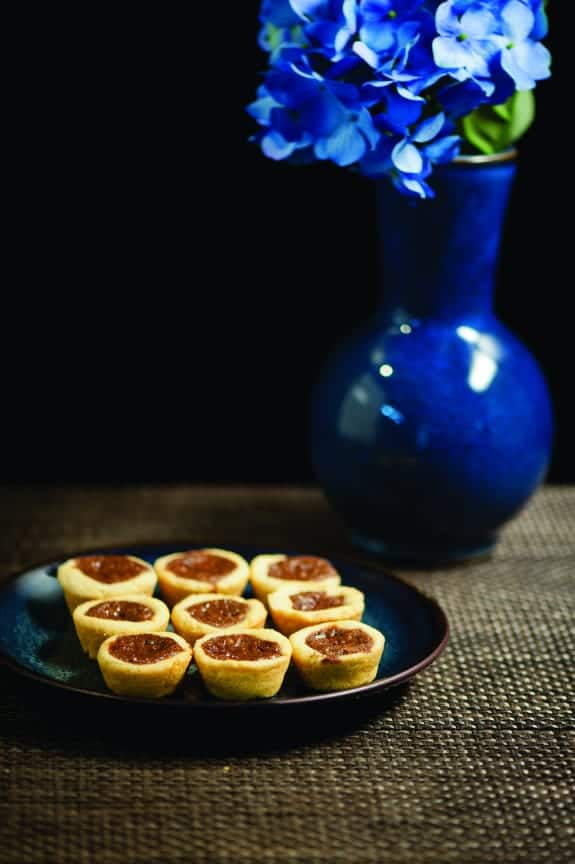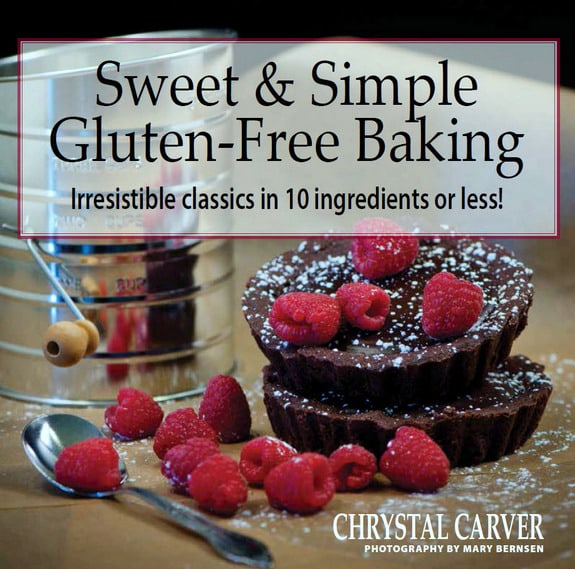 ~ On All Gluten-Free Desserts:
Apple Fritter Bites from In Johnna's Kitchen ~ These delectable bites are Johnna's gluten-free, dairy-free answer to Tim Horton's gluten-full Apple Fritter Bites. Although apple is a stellar fall flavor, these treats will be welcome all year long!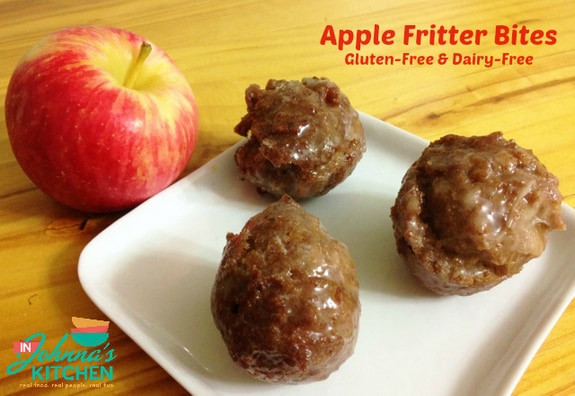 The Most Popular Post on Gluten-Free Wednesdays Last Week
~ Soft Pumpkin Cookies from Tessa, The Domestic Diva ~ I don't think any of us could resist this photo or the whole idea of Tessa's yummy cookies! They're gluten free and vegan, which makes them the perfect fall cookie for most of you reading.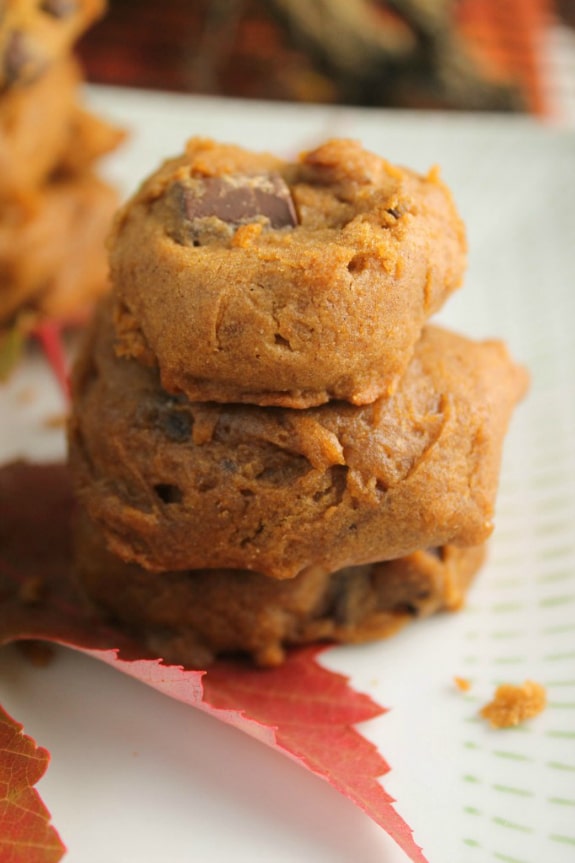 ~ My GFW Post "Picks"
~ Mini Chocolate Chip Pumpkin & Ginger Muffins from ChaCha's Gluten-Free Kitchen  ~ I'm a self-professed muffin lover and I love these mini muffins from Kathryn (aka ChaCha)! We've all seen pumpkin chocolate chip creations and they're terrific, but the crystallized ginger in these treats makes them super special.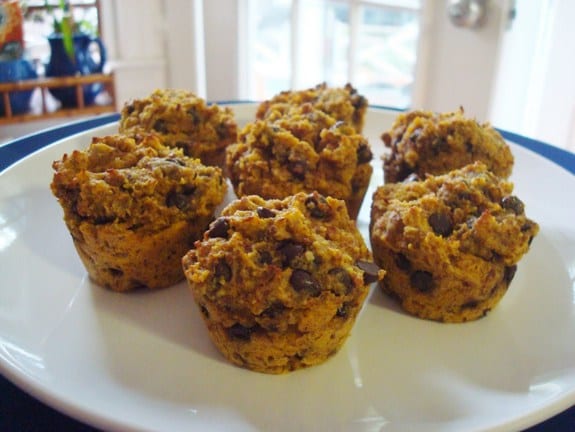 ~ Pumpkin Chocolate Chip Pancakes from Pocketfuls ~ "Special" pancakes can make everyone happy for breakfast, lunch, or dinner. These Pumpkin Chocolate Chip Pancakes will create yummy fall happiness for your loved ones! p.s. They're gluten free, dairy free, egg free, and vegan.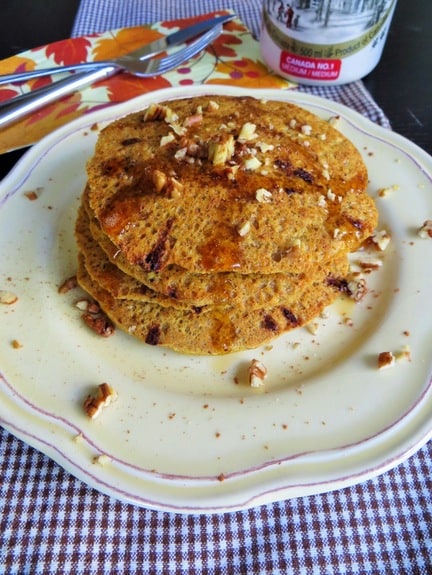 And because life is about more than sweet treats …
~ Chicken Pot Pie from Gluten-Free Palate ~ Chicken Pot Pie is the ultimate comfort food to me. This lovely recipe from Chrystal gives you the option of one 10-inch pie or 6 smaller pies. Keep this recipe in mind for turkey leftovers, too. (And don't forget to enter the giveaway for Chrystal's cookbook!)
The Carnival
We appreciate your participation and are happy to share many of the links on social media sites. However, as much as we hate to put a damper on this fun carnival, entries that do not follow the guidelines will not be shared and will be deleted from the linky.
~ You must link back to one of the co-hosts.
~ Links should be about a gluten-free eating idea. While it doesn't have to be a recipe, it should be food related.
~ Recipes should have gluten-free ingredients or options in the recipe (not elsewhere in the text).
~ If you're new, please read all the guidelines.
Note:  Linking up indicates you are giving permission for us to share your submitted photo and your link via social media or in next week's post if it is selected as the most popular post for the week or featured as a highlight.
​
​