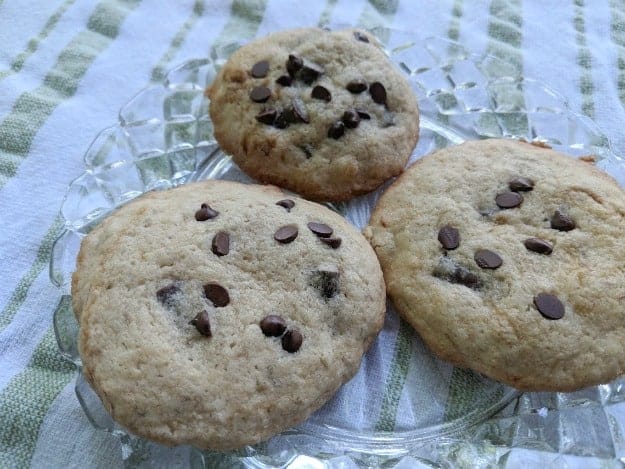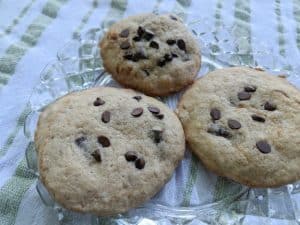 Gluten-Free Banana Chocolate Chip Cookies
These gluten-free Banana Chocolate Chip Cookies are one of the very best possible ways to use ripe bananas. They might even become your favorite new chocolate chip cookies!
Ingredients
2 2/3 cups gluten-free all-purpose flour mix (I use my Two-Ingredient Gluten-Free All-Purpose Flour Mix)
1/2 tsp xanthan gum
1/2 tsp baking soda
1/4 tsp salt
1 cup light brown sugar
1/2 cup granulated sugar
1 cup butter (dairy or non-dairy), softened
1 large egg (see notes for egg substitution suggestions)
1 tsp vanilla extract
3/4 cup mashed banana (about two bananas; do not use more than this amount--if you do, the cookies will be too moist, tending to fall apart and sticking together when placed in a storage container)
2 cups semi-sweet chocolate chips, chocolate chunks, or mini chocolate chips
1 cup chopped nuts (optional, sometimes I add walnuts or pecans)
Instructions
Preheat oven to 350F degrees.
In large bowl, cream butter.
Add granulated sugar and brown sugar, mixing to form a grainy paste.
Add egg, vanilla extract, and banana. Beat until smooth.
Add gluten-free all-purpose flour mix, xanthan gum, baking soda, and salt.
Stir in chocolate chips (any size works, from mini to chunks) and nuts (if desired).
Drop by rounded tablespoon onto ungreased baking sheet.
Bake for about 10 minutes until golden brown. Let sit on bakiing sheet for one minute until cookie "releases" from baking sheet. (If it's difficult to remove the cookie from the cookie sheet with spatula, let it sit a little bit longer.)
Notes
Yield: 4 dozen.
Reader Michelle used a flax gel egg successfully. Combine 1 tbsp flax meal and 3 tbsp water and let sit for 5 to 10 minutes to thicken before adding to the recipe in place of the egg. She said that the resulting cookies were "absolutely amazing." I believe that a chia gel egg would work (use ground chia seed in place of flax meal as noted above), but have not personally tried that or heard back yet from any readers who have.
The original recipe called for using an electric mixer. At the end, stirring the mixture will be similar to stirring bread due to its thickness and how it pulls away from the sides of the bowl. While I have a KitchenAid and occasionally use it, I really prefer mixing with a wooden spoon whenever possible. I think it helps maintain arm strength (I switch arms while stirring) and I just like the physical act of stirring and taking my time making a recipe.
In addition, I think using a mixer makes cookies too uniform, too fine, like store-bought cookies and not chewy enough. These cookies will stay moist. In fact, you don't want to keep them in an airtight container like you do other gluten-free baked goods. If you do, they will get too moist and fall apart. I place mine in a tin, with waxed paper between the layers, and leave off the lid. I use my favorite gluten-free all-purpose flour mix that I make ahead and then measure out per recipe.
Adapted from the recipe provided from my friend (source unknown)
Courses Dessert
Recipe by gfe--gluten free easily at https://glutenfreeeasily.com/going-bananas/