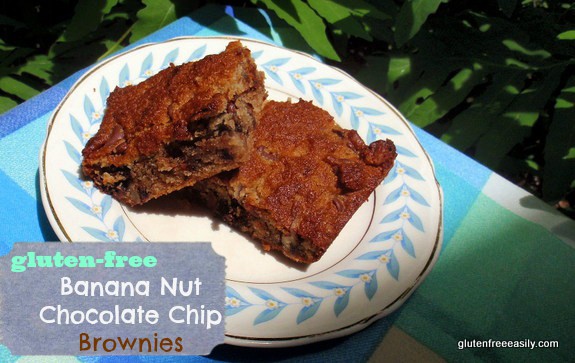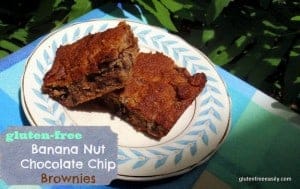 Gluten-Free Banana Nut Chocolate Chip Brownies (Grain Free)
These gluten-free Banana Nut Chocolate Chip Bars are so good that they earn the "brownie" label!
Ingredients
2/3 cup brown sugar (or coconut sugar)
½ cup butter, melted (or slightly less coconut oil, liquefied)
2 large eggs
½ cup very ripe banana, mashed (average size banana)
1 tbsp vanilla extract (measurement amount is not a typo)
2 cups almond flour (I don't recommend Bob's Red Mill)
2 to 3 tbsp coconut flour, sifted
1 tsp baking soda
¾ tsp salt (or sea salt)
2/3 cup nuts, chopped (I used pecans for the version shown); optional
2/3 cup chocolate chips (I use this brand or this brand)
Instructions
Preheat oven to 375F degrees. Lightly grease 9 x 13 baking dish.
Add eggs to large bowl. Beat gently with wooden spoon.
Add almond flour, brown sugar, melted butter, vanilla extract, baking soda, and salt, mixing well until ingredients are fully incorporated.
Add 2 tablespoons of coconut flour. Let batter rest a few minutes. Batter should thicken so that it's thicker than cake batter and be more like what you would expect bar/brownie batter to be. If it doesn't thicken enough, you can add up to 1 tablespoon more of coconut flour. Be careful. Just add a little at a time as coconut flour is so absorbent. You don't want your batter to be too thick and end up with super dense, dry treats.
Stir in nuts and chocolate chips.
Using spatula, add batter to baking pan spreading until the batter is even.
Bake about 20 minutes until golden brown. Check for doneness with a toothpick, if needed.
Cool in pan at least 15 minutes before cutting, preferably longer. Store loosely covered.
Courses Dessert
Recipe by gfe--gluten free easily at https://glutenfreeeasily.com/grain-free-banana-nut-chocolate-chip-brownies/