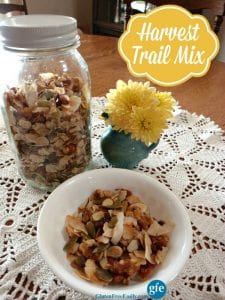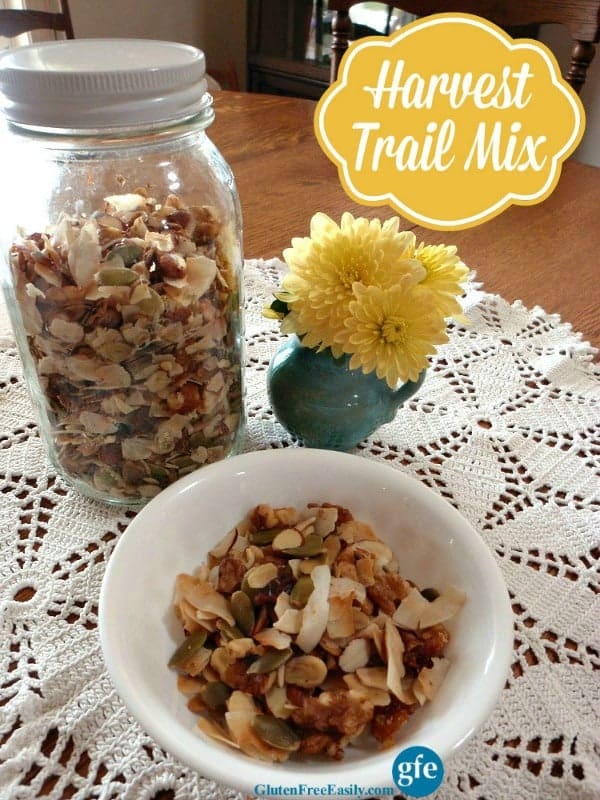 Harvest Trail Mix
This Harvest Trail Mix is so simple, yet so satisfying! You'll want to have it with you whenever you're leaving home---for hiking, for road trips, for lunch at school or work, etc.
Ingredients
1 cup raw pumpkin seeds (also known as pepitas)
1 cup walnuts, halves or chopped
1 cup sliced almonds
1 ¼ cup unsweetened coconut flakes (I use Let's Do Organic or Tropical Traditions)
5 Medjool dates, pitted and chopped (or torn into pieces)
Scant ¼ cup of coconut oil, liquefied (read notes, I use this brand)
½ tsp honey (note: not added until after baking; more can be added to taste; use maple syrup for vegan option)
Instructions
Preheat oven to 275F.
Line a very large baking sheet with aluminum foil or parchment paper.
In a large bowl, add all the ingredients except for the honey. Mix well.
Spread out ingredients on baking sheet.
Bake 20 minutes, stirring halfway through baking time.
Remove baking sheet from oven. Immediately add honey and stir well. Let cool.
Store in a sealable container. Munch and enjoy!
Notes
Feel free to sub in other seeds and nuts, and I'm sure that using maple syrup instead of honey would be equally delicious.
Small amounts of dried fruit such as cranberries and blueberries would also be nice.
If you increase the total amount of dry ingredients significantly, you may need to add more coconut oil and more honey.
I used a dry measuring cup to measure my coconut oil. You might get by with even less coconut oil if sticking to my recipe ingredients and amounts. Try starting with 3 tbsp and see if after stirring all looks moistened. If so, that might be all you need.
Courses Snack
Recipe by gfe--gluten free easily at https://glutenfreeeasily.com/harvest-trail-mix-gluten-free-vegan-paleo/