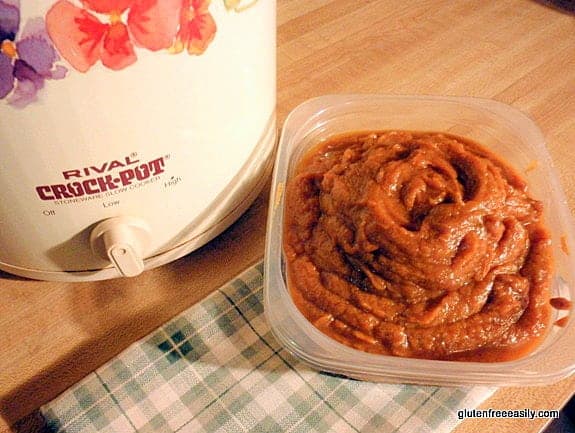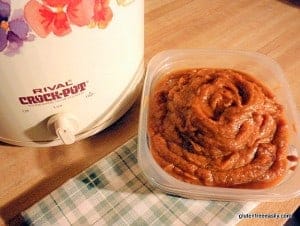 Healthier (Lower Sugar) Pumpkin Butter (Made with Pears and Apple)
Ingredients
2 cans pumpkin puree (or 4 cups fresh pumpkin puree)
About 2 ½ ripe pears, peeled and chopped (about 2 cups chopped, with juice)
1 ripe apple, peeled and chopped (I used Honeycrisp; see notes)
1/3 cup honey (or slightly less maple syrup)
1 ½ to 2 tsp cinnamon (you can taste mixture before slow cooking to decide amount to use)
½ tsp ginger
½ tsp allspice
½ tsp nutmeg
½ tsp cloves
Instructions
Add apple and pears to food processor and process until pureed, about a minute or so.
Add puree to medium-sized bowl and add in other ingredients. Mix well.
Add mixture to slow cooker.
Slow cook on LOW for about 5 ½ to 6 hours. Check on thickness/consistency of your pumpkin butter. When it's "almost there," remove lid from slow cooker and leave on for another 30 minutes. Then turn off slow cooker and let sit in slow cooker for another 30 minutes or so. Even though the slow cooker is turned off at this point, the pumpkin butter will continue to cook and thicken from the heat left in the slow cooker and the evaporation process. This part is somewhat intuitive, but not difficult.
Once thickened and cool enough, transfer to canning jars or other containers and store in the refrigerator for a few weeks.
Notes
You can substitute 3 to 3 ½ teaspoons of pumpkin pie spice for the individual spices, "in a pinch" or if you prefer. Subbing pumpkin pie spice for part of the spices (allspice, cloves, ginger, and nutmeg) in addition to cinnamon is also an option. You can use a sweeter apple, like Golden Delicious or Pink Lady, or perhaps even use more apples than pears, or all apples. Adjust honey (or other sweetener) as needed when altering the ratio of fruit and to personal preferences. Slow cooking will deepen the flavors, but it won't necessarily make your pumpkin butter sweeter so being happy with the sweetness before adding your mixture to the slow cooker is important.Slow cookers can vary in temperatures and required cooking time. You might need to slow cook your pumpkin butter more or less. Pay attention to that final cooking time the first time you make this recipe and note it on the recipe so you won't have to keep checking your pumpkin butter when you make it in the future.Because of the lower amount of sugar in this recipe (honey in this case), this pumpkin butter will not keep as long as my other slower cooker pumpkin butter recipe does or at least keep its same sweet flavor. The fruit turns fairly tart after a while.
Recipe by gfe--gluten free easily at https://glutenfreeeasily.com/healthier-pumpkin-butter/