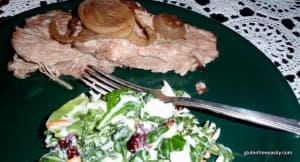 POM'd Pork
Ingredients
1 tablespoon olive oil
1 large yellow onion, sliced thin
3 pounds (or larger) pork tenderloin or pork butt
1/4 teaspoon ground cinnamon
1 teaspoon Italian seasoning
1/2 teaspoon sea salt
4 garlic cloves (whole or minced)
1 (14-ounce) can diced tomatoes with green chiles
1 cup pomegranate juice (I used POM Wonderful pomegranate juice)
1/4 cup balsamic vinegar
2 tablespoons maple syrup
Instructions
Use a large slow cooker. (I used my large programmable oval Crockpot.) Pour olive oil in slow cooker; tilt so olive oil is evenly coating the bottom of the stoneware. Place onion slices over olive oil.
Place meat in slow cooker. Rub the spices over the surface of the meat. Top meat with garlic and whole can of tomatoes with green chilies. Mix pomegranate juice, balsamic vinegar, and maple syrup, and gently pour over the meat so that the diced tomatoes and green chilies remain on top.
Cover and cook on low for about 8 hours, or on high for approximately 5. The meat is done when it has reached desired tenderness. For pork tenderloin, I like it sliceable. For pork butt, I like it to pull apart easily with a fork.
Serve on buns or with a complementary side. 
Notes
The photo of all the ingredients shows two cans of diced tomatoes with green chiles; however, I decided one would be sufficient after I poured it over the pork butt. Feel free to vary ingredients to your liking. Look to the original recipe for more ideas.
Recipe by gfe--gluten free easily at https://glutenfreeeasily.com/holiday-food-fest-pomd-pork-and-tropical-traditions-giveaway/