For affiliate links and as an Amazon Associate I earn from qualifying purchases.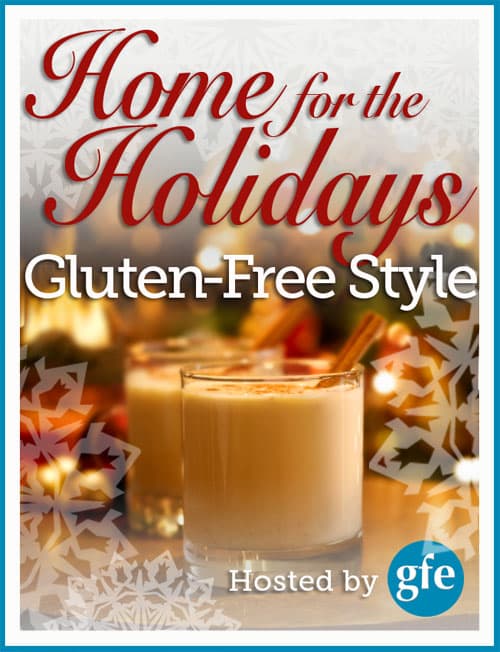 It is my pleasure to announce the winners for the first five days of giveaways during our Home for the Holidays … Gluten-Free Style event. Like all the others who will enter the daily giveaways, these winners will also be eligible for the final giveaways from Caveman Cookies, Free From Gluten, and Vitamix. Winners will be contacted via email; if you're a winner, please respond promptly.
*Day 1 here at gfe:
The winner of Wheat Belly by Dr. William Davis:
Elisa—"Woohoo! I am so looking forward to following Home for the Holidays! What a great idea and a way to become familiar with all the wonderful GF blogs out there. The cookies look delicious… I love this time of year! I have been wanting to read Wheat Belly and I'm interested in Make It Fast Cook It Slow. I have a feeling I'm going to be adding a lot of books to my need to read list."
The winner of the combination of More Make It Fast, Cook It Slow and Totally Together: Shortcuts to an Organized Life by Stephanie O'Dea:
Elizabeth—"I love making Stephanie's recipes in my slow cooker! So excited that she has another recipe book out!"
The winner of the combination of More Make It Fast, Cook It Slow and Totally Together: Shortcuts to an Organized Life by Stephanie O'Dea:
Kristin W.—"What a fun idea!!! I would love to win this."
**Day 2 at The Whole Gang
The winner of The Gluten-Free Almond Flour Cookbook by Elana Amsterdam:
Melissa—" Gotta find those cracklebread crackers! Going to Whole Foods this weekend."
The winner of Gluten Free in Five Minutes by Robin Ryberg:
Vanessa—"I get your newsletter!"
The winner of The Steamy Kitchen Cookbook by Jaden Hair:
Linda S.—" I am subscribed to your newsletter."
***Day 3 at Adventures of a Gluten-Free Mom
The winner of Healthier Without Wheat by Dr. Stephen Wangen:
Sarah L.—"I just started eating gluten free and these look like a fantastic holiday treat! Our family's more recent holiday tradition is gathering at my brother and sister-in-law's house on Christmas Eve and reading The Night Before Christmas to my niece and nephew before tucking them into bed. My brother usually reads the story with one kid on each knee. It is a nice quiet time for the entire family."
The winner of Perfect One-Dish Dinners by Pam Anderson:
Jacqui—"First off… SO jealous of your leg lamp!!  Our neighbors are from Holland.. and always bring us some of these on New Year's. This year I won't be able to have their fritters (they call them Ollie Bollen, and yes.. I probably just butchered the spelling). I may have to learn to make my own! My favorite tradition is Christmas Eve. It's just my hubby, daughter and I. We order Sushi and watch A Christmas Story. I love spending Christmas Day with tons of family.. but it's so nice to just have a quiet Christmas Eve."
The winner of Artisanal Gluten-Free Cupcakes by Pete and Kelli Bronski:
Angela R.—"Wow, this looks so delicious!!! What can I use instead of the aebleskiver pan? I'm sure somebody will answer after I read all the comments but just in case, there's my question! Traditional holiday.. hmm we are trying to develop new ones because of a divorce few years ago but the usual – put up the tree and stockings. I must must make christmas cut-outs. I'm still on the lookout for the perfect sugar cookie. I have a glutened BEST recipe of sugar cookie and I'm quite picky. I'm looking for excellent sugar cookie cut-out cookie recipes. Perhaps I have to start a new cookie tradition, I just saw a gf gingerbread cookie recipe that looks and 'sounds' good. I'm also trying this month to have my kids listen to an old holiday radio show via getrichslowly.org – 'Cinnamon Bear'. So I'm trying to find little ways to make xmas holiday 'ours' and not all about gifts."
****Day 4 at The Whole Life Nutrition Kitchen
~ The winner of Healthier Without Wheat by Dr. Stephen Wangen:
Rachel Blom—"Great giveaway! Loving the recipe since we're new to gluten-free."
~ The winner of The Pure Kitchen by Hallie Klecker:
Jenny—"Perfect timing for this recipe, our class is buzzing about Saint Lucia cookie dough. Thanks."
~ The winner of The Whole Foods Kosher Kitchen by Lévana Kirschenbaum and Lisa R.Young:
Joanie—"What a delightful recipe! Simple list of ingredients and fun for the whole family. I'm looking forward to making these and sharing with others. What great giveaways too! I always look forward to the recipes you share, Ali. You are a blessing."
~ The winner of Gluten-Free Baking for Dummies by Jean Layton and Linda Larsen
Amy W.—"I shared on Twitter."
*****Day 5 at And Love It, Too!
~ The winner of Free For All Cooking by Jules Shepard:
Catybakes—" I have two favorite holiday desserts: my mom's gingerbread cookie recipe and my dad's peanut butter- butterscotch fudge. The first one would be very easy to convert to gluten free, dairy free. The second one I haven't been able to figure out yet."
~ The winner of The Whole Life Nutrition Cookbook by Tom Malterre and Ali Segersten:
Megan Holder—" Thank you for sharing your recipe, it looks amazing!! I definitely am going to make it for Christmas, it looks too good not to. Every year my mom makes her mouth-watering sweet potato pie, but since going gluten and dairy-free, I have not been able to eat it, but I am determined to convert it to taste just as good if not better."
~ The winner of the Cook IT Allergy Free app by Kim Wilson-Maes:
Arlee—" That looks so yummy! My favorite holiday food is my mom's strawberry cheesecake. I need to find a gluten free version of it now."
~ The winner of 100 Best Gluten-Free Recipes by Carol Fenster:
Desiree—" My favourite holiday dessert is probably my moms sugar cookies…I will have to find a way of adapting them for my intolerances, but I don't think anything will top them for me just yet! (A very close second is pumpkin pie). Thanks for posting participating in this event!"
Congratulations to all! Please continue following along with our holiday event for amazing "home" and "holiday" recipes and giveaways of wonderful tools for gluten-free living!