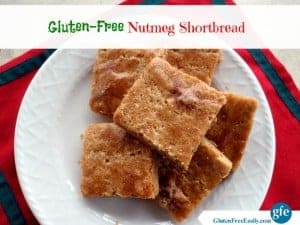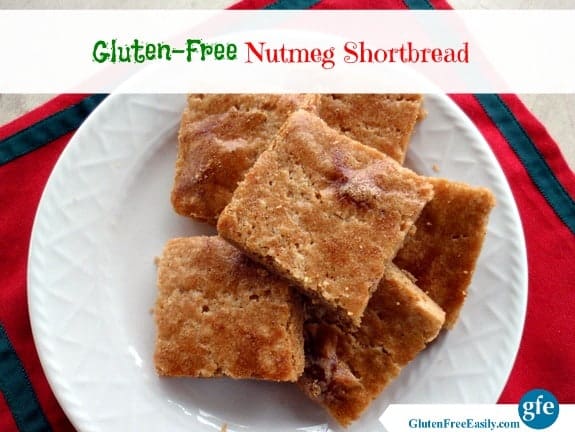 Gluten-Free Nutmeg Shortbread
What could be better than classic shortbread? Well, classic gluten-free shortbread, I should say. The answer is gluten-free shortbread enhanced by nutmeg!
Ingredients
1 cup butter (dairy or non-dairy), softened
1 cup granulated sugar
1 egg, separated
2 cups gluten-free all-purpose flour (I use my Two-Ingredient Gluten-Free All-Purpose Flour Mix)
1 ½ tsp ground nutmeg (or freshly grated, if available)
1 tsp xanthan gum (optional; the shortbread is a bit crisper without it, but the recipe still works fine)
Instructions
Preheat oven to 275 degrees.
In large bowl, cream butter and sugar until light and fluffy.
Add egg yolk; mix well.
Gradually add in flour and nutmeg.
The mixture will be thick and you don't want to get overzealous and have ingredients flying out of your bowl, so slowly incorporate flour. I usually use my clean hands to work the dough into a batter.
Using a greased spatula or greased hands (I greased my hands with coconut oil), spread batter evenly on an average-sized baking sheet.
Hand beat egg white until frothy and brush over the top of the pressed-in batter.
Bake for about 50 to 60 minutes. (Test for appearance and with a toothpick at 50 minutes. Bake for additional time in 5-minute increments, if needed.)
While hot, cut into squares, rectangles, or triangles. Remove to racks to cool. (As you can see, I prefer cooling them on an opened brown paper bag.)
Notes
Slightly adapted from Woman's Club of King George Favorite Recipes Cookbook, Volume 3.
I made this recipe as shown using gluten-free all-purpose flour. This is what I consider a "mainstream" gluten-free recipe. I have not yet attempted to make this recipe with alternative, healthier ingredients like coconut oil, coconut sugar, and almond flour, but please feel free to experiment with the recipe and report back to us all!
Courses Dessert
Recipe by gfe--gluten free easily at https://glutenfreeeasily.com/home-for-the-holidays-gluten-free-nutmeg-shortbread-flats-recipe-giveaway-more-make-it-fast-cook-it-slow-totally-together-journal-wheat-belly/