For affiliate links and as an Amazon Associate I earn from qualifying purchases.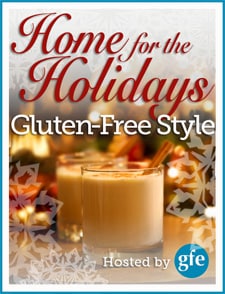 Hello everyone! I know you've been enjoying our holiday event because I've been reading comments, tweets, Facebook statuses, and getting emails saying so. Every individual or company participating in this event in some way is thrilled to hear that! Here we are at the most exciting part of each week … where we announce the winners of the daily giveaways. Hopefully, you've been following along. (Here's the complete line-up.) I really recommend you do follow along to check out each blogger's phenomenal recipe and enter daily because every entry goes towards the fantastic final prizes—Caveman Cookies gift package of $89 value, $150 shopping spree at largest gluten-free store Free From Gluten, and the 5200 Healthy Lifestyle package from Vitamix (comes with the grain container and is valued at $550). But wait there's more … I also recommend that you follow along because some additional prizes continue to be thrown into the mix and all entries will be eligible for those, too. What does that mean? It means that if you are just joining our event or got started even a little bit late you might want to check out the posts you missed. While the "daily" giveaways for most of the previous posts are closed, you can still leave a comment on those posts and that comment will give you yet another entry for the final prizes and the "surprise" prizes.
Without further ado, here are all the winners for Week 2! Congratulations to all!
First, the winners of the "added" giveaways this week …
~ The winner of Tropical Traditions coconut oil:

AJ left the winning comment over at Lexie's Kitchen on Lexie's Chocolate Pomegranate Clusters post.

"Great idea! To simplify the holidays, we are staying home."
~ The winner of the 5-lb bag of Honeyville Almond Flour:

Suzanne H. left the winning comment at Diet, Dessert and Dogs on Ricki's Chocolate Mint Truffles post.

"These look amazing! Thanks for the recipes and the giveaway!"
~ The winner of Mommy, What Is Celiac Disease? and one cupcake holder (similar to these).

AMDeis left the winning comment here on gfe on our kickoff post–"I find myself looking forward to all of the GF recipes that are sure to be amazing in light of our need for holiday food."
Next, the daily giveaway winners …
******Day 6 ~ Stacy at Paleo Parents with Monkey Bread

The winner of Modern Spice and iSPICE app combo:

Kmercer–"I'm gluten free, mom is diabetic, brother-in-law is lactose intolerant. I actually make a lot of recipes that all of us can eat, and so when I'm visiting during the holidays I make a lot of the meals and I really love making great food and sharing it with the people I love. This bread looks fabulous!"

The winner of Paleo Comfort Foods:

Katie Kruger—"Wow what a recipe!  I am trying to learn to cook all things gluten free for my son who was diagnosed gluten intolerant this summer, and myself (wheat sensitive) am just beginning to explore paleo diet and am intrigued.  I'm especially wanting recipes for holiday treats as we'll have to forego so many of our traditional favorites, this monkey bread will definitely be on our new menu! I have the Paleo cookbook on my wish list, so winning would be delightful.  Thank you for all the great recipes, blog lists and links!"

The winner of Dangerous Grains:

Stephanie Cold—"Thanks for the recipe and give-away. I'm looking forward to make some sort of homemade Christmas egg-nog with yummy raw milk and eggs!"
*******Day 7 ~ Maggie at She Let Them Eat Cake with Candy Cane Ice Cream

The winner of The Dairy-Free, Gluten-Free Kitchen:

Lori Robin Wilson—"Every gluten free, dairy free cookbook improves the quality of my life. The amazing thing is that my husband enjoys all my experimenting and baking. This is my first vegan and gluten free Chrismas and this would make it heavenly!"

The winner of Sugar Nation:

Angie Gray—"Great recipe and blog!"

The winner of The Gluten-Free Almond Flour Cookbook:

Rebecca Ashley Mitchell—"This recipe sounds amazing! I cannot wait to try it, now to write a letter to Santa asking for an ice cream maker!!"
********Day 8 ~ Melissa at Gluten Free For Good with Red Chile Enchiladas (Casserole Style)

The winner of Artisanal Gluten-Free Cooking:

Marissa GF–"Gateway to my heart – mexican food! This recipe looks great!!! Thanks for posting! And of course thank you for the giveaway opportunity."

The first winner of Wheat Belly:

Jeff Gallup–"Looks yummy!

The second winner of Wheat Belly:

Joy–"These look delicious! True comfort food Mexican style…"
*********Day 9 ~ Kim at Cook IT Allergy Free with Cinnamon Bun Cake

The winner of Simply … Gluten-Free Desserts and One 5-Lb Bag of Amazing All-Purpose Gluten-Free Flour Mix:

AnnMarie C—"My boys, who were both diagnosed with celiac in 2011, make this holiday season and every day bright. Watching my oldest inch closer and closer to healing makes me feel very grateful."

The winner of The Pure Kitchen:

Sarah M—"Oh my gosh, this looks delicious! I will have to make this Christmas morning (for our first gluten-free and dairy-free Christmas)! Thank you! Spending time with family makes this season bright for me."

The winner of a subscription to Easy Eats:

Sharon—"I just love seeing it all through my children's eyes. It's so refreshing to see how much joy they get from all the little traditions we are creating together!"
**********Day 10 ~ Lexie at Lexie's Kitchen with Chocolate Pomegranate Clusters

The winner of the More Make It Fast, Cook It Slow and Totally Together: Shortcuts to an Organized Life combo:

Karol–"We are simplifying by not traveling this holiday, we will be staying home and taking it easy."

The winner of Gluten-Free Cupcakes:

Heather–"This year due to my husband's deployment, I am keeping everything very low key. I look forward to making these treats with my little one. Thanks for sharing!"

The winner of The Gluten-Free Almond Flour Cookbook:

Antoinette–"These are so easy. A perfect simple hostess gift when I'm going to all of my holiday parties. Thank you!!!"
***********Day 11 ~ Brittany at Real Sustenance with Cinnamon Chocolate Babka Bread

The winner of Grain-Free Baked Goods and Desserts:

robyn–"oooh, i've been wanting one of kelly's books! we're really just slowing down this year, much simpler christmas…only three gifts and lots of handmade lovelies for friends and family!"

The first winner of 7 Quick-Start Tips for Living a Healthy Gluten-Free Fit Life:

Julia–"shared on Facebook!"

The second winner of 7 Quick-Start Tips for Living a Healthy Gluten-Free Fit Life:

Captain Momma–"We are cutting back this year. Few presents, not going all out on food and stuff and just realxing at home with our wee family  This sounds like an amazing giveaway! Any of the books would be welcome editions to our home.I need to make some cinnamon buns for the kids to enjoy. Thanks!"

The winner of Sweet Freedom:

Heather–"This looks delicious! But I am currently grain-free so I can't partake but I am very much looking forward to trying your cinnamon rolls. I am keeping things simple but not doing as much cooking and baking as I usually do."
************Day 12 ~ Elana at Elana's Pantry with Gingerbread Apple Crisp

The Cooking for Isaiah winner:

Mara–We are actually traveling this holiday to Ohio which is something we don't normally do. So, not much simplification (even though that's my motto in life) going on here, except that I love being able to ride in the car while my husband drives (the whole 13 hours) while I read and relax. So it will actually be quite relaxing

The first Paleo Comfort Foods winner:

Cara Werner—"Elana's Pantry, I LOVE all of your recipes you share! You've made going Paleo that much easier. Paleo Comfort Foods is on my Christmas Wish List! Hope I win!!! :)"

The second Paleo Comfort Foods winner:

Susan Clark—"We simplify by slowing down and making time for everyone we love! We avoid shopping, unless it is for baking ingredients. Happy Holidays to you all!"
All winners will be contacted via email shortly. However, if you see your name and comment here, feel free to email me at [email protected]. Next week about this time, I'll be sharing the winners for Days 13 through 19, so please stick around for more Home for the Holidays … Gluten-Free Style recipes and giveaways. All of us love celebrating the holidays with you!
Full disclosure: All giveaways except for the Tropical Traditions coconut oil, Honeyville Almond Flour, and Mommy, What Is Celiac Disease plus cupcake holder, are sponsored by the applicable author/publisher/company, etc. The last three giveaways are sponsored by gfe.