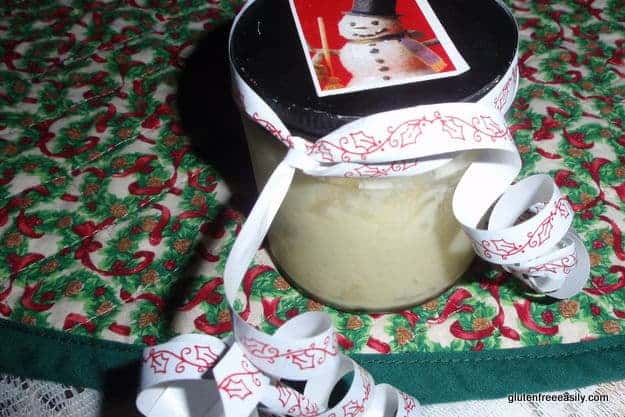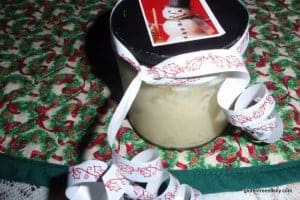 Homemade Honey Butter
A schmear of this homemade honey butter truly will makes any bread taste special. Super easy to make and always well received!
Ingredients
1 ½ sticks (3/4 cup) of butter, softened (see notes for non-dairy options)
¼ cup honey (or less, to taste)
Instructions
Place softened butter in a deep bowl.
Cream butter with your mixer or a wooden spoon. Gradually add honey and mix using a low speed if using a mixer.
Spoon into the jar.
You can "wrap" your jar of honey butter now and then refrigerate or wait until right before gifting if you are worried about your wrapping getting disturbed or damp in the refrigerator.
Notes
I place a nice gift label on the lid and just tie a bow around the lid. The label shown in the photo was actually part of a book of stamps. I always save any parts I can turn into labels or stickers. I just hate to waste things.
Cost wise, this gift can be very reasonable. The butter cost me about 75 cents and, of course, the honey was free (setting aside our costs for maintaining the bees).
It would be pretty easy to make dairy-free honey "butter" using Earth Balance buttery spread that comes in a tub. Slightly soften spread by sitting the container on the counter for a few minutes. Remove spread to a medium-sized bowl. Add honey. Mix well. Place honey buttery spread back in the container, which you can wrap with wrapping paper (foil wrapping works well). Save any excess to another refrigerated container for yourself.
I also made a sample batch using coconut oil instead of butter and I liked it, but it does have a pronounced coconut flavor.
Recipe by gfe--gluten free easily at https://glutenfreeeasily.com/homemade-vanilla-extract-and-honey-butter/