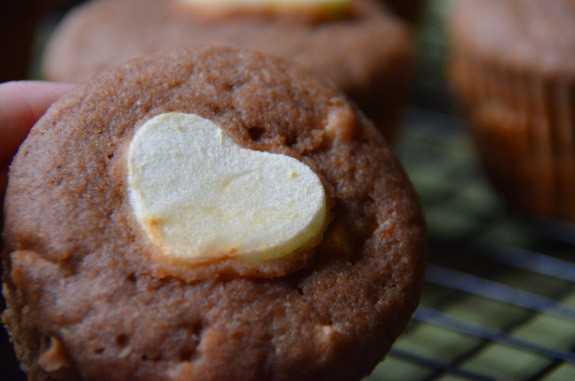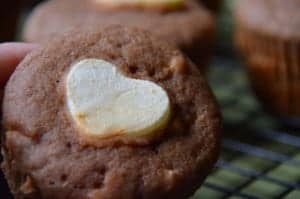 Gluten-Free Cinnamon Apple Muffins That Say "I Love You"
These gluten-free Cinnamon Apple Muffins That Say I Love You will make everyone feel loved! This classic flavor combo wins every time.
Ingredients
Wet Ingredients
Dry Ingredients
Instructions
Preheat oven to 350F degrees.
To make the cute little heart shapes (which are optional, of course), slice an apple and use a little heart cookie cutter.
In a bowl, add together your dry ingredients. I use a scale to weigh out my gluten-free flours, but friends have told me they just scoop out the flours and the recipe comes out great.
In a separate mixing bowl, add the 2 eggs, coconut sugar, applesauce, water (or dairy free milk), vanilla, and stevia and mix with a handheld mixer on med/high for 45 seconds. Add in melted coconut oil and mix another 30 seconds.
Add the dry ingredients to the wet and mix by hand until the dry ingredients are mixed in with the wet, then mix everything again with the hand mixer for 20 seconds or so.
Add in the chopped apples and mix by hand until incorporated.
Fill your muffin tin to the top for nice big muffins, or fill just about 3/4 of the way for smaller ones. Bake for 18 minutes on the middle rack. Makes 12 - 15 muffins (depending on how full the tin).
Notes
In place of water, you can use a dairy-free milk.
If you can't have xanthan gum, use 1 tsp of psyllium husk---or just leave out the xanthan.
Any apple variety will do, but I love the tart of a Granny Smith.
Courses Breakfast, Dessert
Recipe by gfe--gluten free easily at https://glutenfreeeasily.com/i-love-you-cinnamon-apple-muffins-the-tasty-alternative/