For affiliate links and as an Amazon Associate I earn from qualifying purchases.
This post is a sponsored post, but the opinions expressed within are my own. I receive no compensation for any sales through links.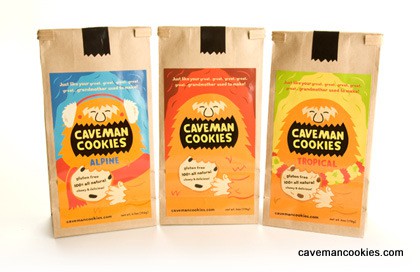 Or maybe I should say re-introducing Caveman Cookies, as I've talked about these great products before here at gfe. But it's been a while and Caveman Cookies has just been added as one of my sponsors. That's why you'll see Caveman Cookies featured on the top right of my sidebar now. As their website states, Caveman Cookies are cookies "just like your great, great, great, great, great … grandmother used to make." Okay, I don't think the grannies back then had time to bake cookies, but they could have if they'd ground some nuts, robbed some bees of their honey, etc. Luckily for us, we have the folks at Caveman Cookies to make them for us today! 
"Cookies?" you might be asking. "Really, Shirley? Do cookies fit the gfe approach?" Well, the gfe approach focuses on real food and recipes made from real food, first and foremost. Some mainstream processed foods that are gluten free come next. And last up in the gfe approach would be a few gluten-free specialty products. Where do Caveman Cookies fit in to the picture? Surprisingly—and this doesn't happen with many products–they actually pretty much fit in all three categories. How can that be? Well, these cookies are real food. The ingredients are nuts, fruit, and honey. That's it. No preservatives. Okay, well how can they be real food and mainstream processed? In healthier venues, these would be considered mainstream. And they are only processed in the sense, that the ingredients are made into cookies, baked, and then packaged. Last, many would consider these cookies a specialty product because they appeal to a special audience and are not found in your basic grocery store. So, all considered, Caveman Cookies definitely work for the gfe approach!
Caveman Cookies was founded by Stephanie Lester. She was baking and enjoying these cookies herself and decided there was a need in the marketplace for these naturally gluten-free, naturally dairy-free, naturally refined sugar free, naturally egg-free healthy cookies, which readily fit into several lifestyles. Gluten free, dairy free, refined sugar free, soy free, paleo, primal, and/or vegetarian, these cookies will work for you. You can see the specific ingredients below and you'll find the nutritional breakdown via the FAQs page. 
From Caveman Cookies website:  

Original Caveman Cookies are made with honey, almond meal, walnuts, raisins, ginger, nutmeg, and cinnamon. 

Tropical Caveman Cookies are made with almond meal, honey, unsulfured coconut, macadamia nuts, and ginger.

Alpine Caveman Cookies are made with honey, hazelnut meal, almond meal, and toasted ground carob.
You can read more on the Caveman Cookies story and check out the answers to all the FAQs here, but let me highlight a few other key facts about these cookies. They are made in a dedicated gluten-free facility and certified by the Gluten Intolerance Group's Gluten-Free Certification Organization to less than 10 parts per million gluten. That's very important to me and many of you. When Stephanie and I first chatted about her products about two years ago, she had not yet taken the extra step to ensure that her cookies were certified gluten free. Truthfully, at the time, she didn't even know such a certification existed. After she found out how important this factor was to all of us who eat gluten free, she ensured that not only were her products GFCO certified, but they were also made in a dedicated gluten-free facility. To me, that's double protection and I want that protection! (Okay, that sounds a bit odd, but most of you know exactly what I mean.)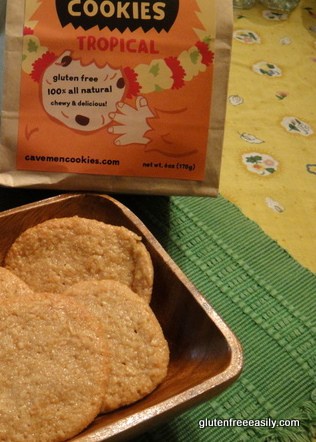 Other big bonuses … Caveman Cookies are kosher certified, and they have a shelf life of one year! Yep, you read that latter part right. These cookies will last one year in your pantry without the presence of any ingredient that is bad for you. Now to be honest, I'll never test the shelf life of Caveman Cookies because a package of these cookies doesn't even last a week in my house. As I shared in my previous post on Caveman Cookies, Stephanie sent me some to sample and review. But Mr. GFE and Son ate them before I could take photos or get enough of a sample to even write an assessment. So I immediately had to order more. I like all three flavors—Original, Tropical, and Alpine—but I'd have to say that the Tropical variety is my favorite. Coconut and macadamia nuts in conjunction with almond, honey, and ginger … what's not to love? 
I find Caveman Cookies to be great for travel, too.  When I haven't had time to make cookies prior to our road trips, I've made sure that we have a package or two of these in the car. They really are a far better and tastier choice than just anything you can pick up while on the road. 
Caveman Cookies are offered in numerous locations throughout the U.S. and even in Australia. (Specific information is shown on the FAQs page; you can even ask your local natural food store or upscale grocery to carry Caveman Cookies.) Plus you can always order Cavemen Cookies online. Right now, Caveman Cookies are on sale for 15% off. (Click here to get discount code and order. Note that there is a flat rate for shipping.) You can "like" Caveman Cookies on Facebook to ensure that you are the first to know about their discounts and new products. If you'd like to give healthier treats for special loved ones for Halloween (Son always got special goodie bags from family members), Caveman Cookies' new cookies sample packs might be of interest to you, too. The Halloween sample pack would be perfect for this purpose with its individually wrapped cookies.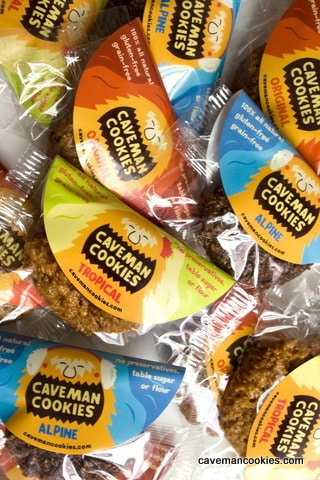 While Caveman Cookies are not inexpensive, any cookies are an occasional treat in terms of food choices in my opinion. I'd much rather spend some extra money on these delicious, very nutritious cookies and enjoy one from time to time versus other less expensive cookies made of refined ingredients that offer me nothing in the way of nutrition. I'm very pleased to have Caveman Cookies as a sponsor of gfe!