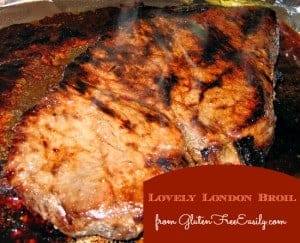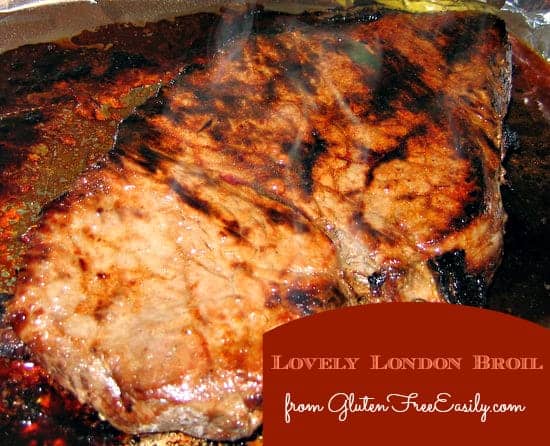 Lovely London Broil
Ingredients
London Broil cut beef, flank steak
1/3 cup gluten-free soy sauce (see substitution notes)
2 tbsp gluten-free Worcestershire sauce (at the time of this post, both Lea & Perrins and French's brand are gluten free in the U.S.)
1/3 cup honey (note how I am always choosing recipes that have honey as an ingredient ... thanks to our bees for their hard work)
2 tbsp vinegar or any wine (I used a very sweet red wine I'd received as a gift)
2 tsp bottled minced garlic (or fresh equivalent)
1 1/2 tbsp ground ginger (or fresh equivalent)
juice of one lime
1/3 cup oil (I used extra virigin olive oil)
Instructions
Marinate meat at least 4 hours or overnight. Turn at least once, about half way through marinating.
Grill or broil at medium-high heat for 7 to 10 minutes on each side for medium rare. Cook slightly longer for medium.
Let sit several minutes before serving. Slice at an angle in thin slices.
Notes
You can prepare London Broil to medium doneness, but you don't want to cook it any longer than that as it will be try and tough. Even at medium rare or medium, remember that the meat continues cooking for a bit after it's removed from heat, so remove from heat before it appears done.*If you don't eat soy at all, you can make your own substitute or use Coconut Aminos. Per the All Recipes site you can substitute Worcestershire sauce mixed with water for soy sauce. So skip the soy sauce if you like and use the substitute of your choice---2 more tbsp of Worcestershire sauce plus 1 tbsp water or Coconut Aminos. I've also mentioned this recipe for homemade soy sauce before, but be sure you use gluten-free and soy-free bouillon if you make it.
Courses Main Dish
Recipe by gfe--gluten free easily at https://glutenfreeeasily.com/lovely-london-broil/