For affiliate links and as an Amazon Associate I earn from qualifying purchases.
I'm still in Asheville, North Carolina (and, yes, I am having a blast with my girlfriends!), but I wanted to share this "mainstream" gluten-free recipe—Gluten-Free Magic Oat Bars—and how it came to be with you all.
UPDATE: On April 4, 2023, Gluten-Free Watchdog issued a new statement, Gluten-Free Watchdog Cannot Recommend Any Brand of Gluten-Free Oats. Read the full statement here. This statement was followed by details on recent testing results of gluten-free products that contain oats., which showed 30% of the labeled gluten-free oat products tested contained quantifiable gluten.

This statement was followed by details on recent testing results of gluten-free products that contain oats, which showed 30% of the labeled gluten-free oat products tested contained quantifiable gluten. I'm not eating any oats and I urge all of my readers who eat gluten free for medical reasons to also abstain.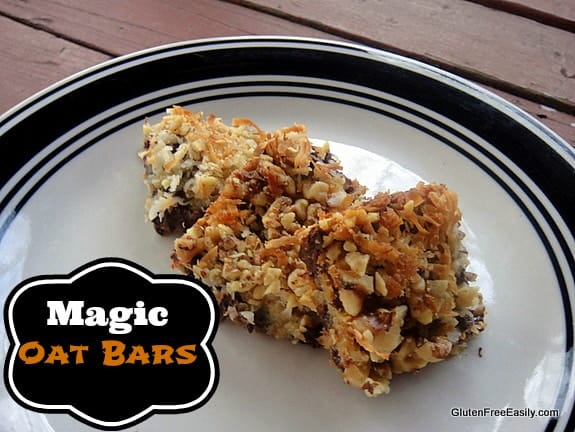 I was driving home from work in semi-robot mode one day. Even though I wasn't really taking in any of the scenery along the way, my monkey brain was in full effect (i.e., it was jumping around from one thought to the next.) Suddenly one thought jumped out at me and "woke" me up.
It was Tuesday. I had promised to make a treat for Mr. GFE to take to his handbell group's practice.
And I had completely forgotten about my promise. As soon as I entered our house and reached the kitchen, I surveyed the pantry to see what I could possibly make in the 35 minutes I had before Mr. GFE left.
I spied a can of sweetened condensed milk. I didn't even remember the last time I'd used that ingredient in a recipe. I think I had purchased it planning to make Dulche de Leche in the slow cooker per Stephanie's directions.
I took a look at the can, turning it around to read the back of the label. There was the classic recipe for Magic Cookie Bars.
I remembered that decadent dessert from years earlier. The first ingredient was graham cracker crumbs. Nope, I didn't have any gluten-free graham crackers.
I looked at the other ingredients in the recipe … butter, condensed milk, chocolate chips, coconut, and nuts. Yes, I had all of those.
I scanned the pantry again. I saw my bag of gluten-free oats (certified gluten-free purity protocol oats—the only oats safe for those who eat gluten free for medical reasons). Hmmm, I thought … maybe I could use oats instead of graham cracker crumbs. So, I did.
I simply substituted the raw rolled oats, measure for measure, in place of the graham cracker crumbs. Then I followed the rest of the instructions for layering the other ingredients and baking.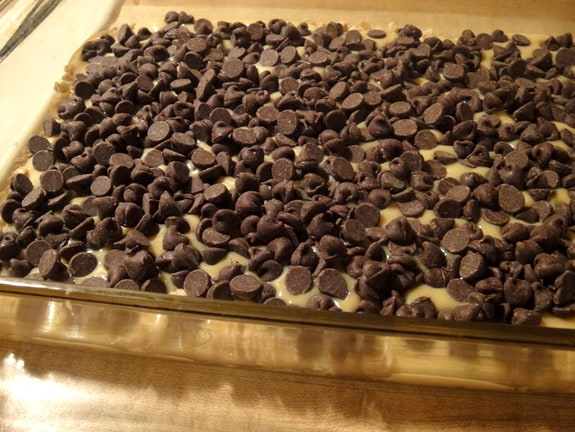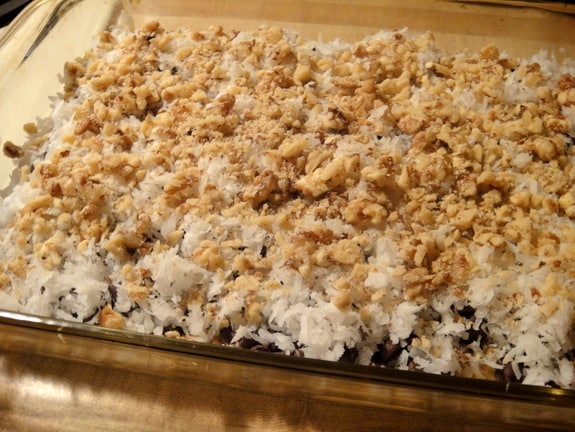 Running out of time, I finally pulled the dish out of the oven. I had enough time to cut a small bar out of the corner to taste. I simply had to make sure the bars weren't a total disaster before I sent Mr. GFE off with them.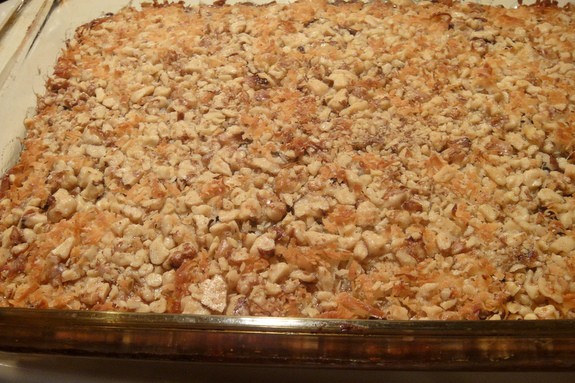 The one I tried tasted terrific, but it was obvious that the bars still needed to set up a bit more. However, now completely out of time, I handed the hot baking dish with potholders, spatula, and napkins to Mr. GFE and sent him on his way.
I knew he had a 15-minute drive to practice. I also knew that his fellow members of the handbell choir weren't likely to eat the Magic Oat Bars until after they had practiced for a while. So the bars would have plenty of time to set up.
I waited at home for the verdict. When he returned and shared words of high praise and the empty pan to prove them, I breathed a happy sigh of relief.
Then for a birthday luncheon at work a few days later, I signed on to make dessert and decided to test this recipe again. Again, the oats worked like a charm.
Those in attendance raved over these bars and this time I got to enjoy more than a tiny corner bar.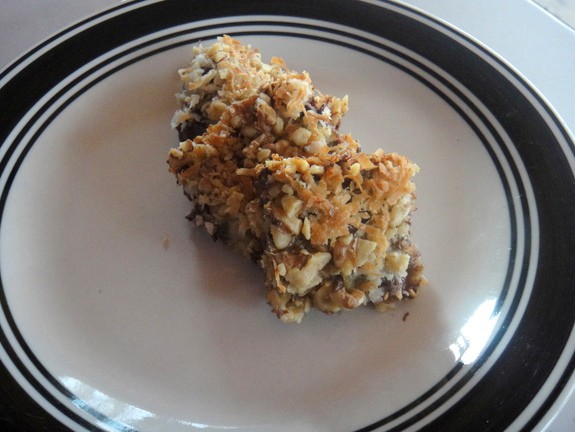 With their chewiness and the other ingredients, these bars taste similar to Samoa Girl Scout cookies (which, of course, are not gluten free). I don't think I've ever met anyone yet who doesn't love the taste of Samoas.
These Magic Oat Bars were enjoyed so much that one of the birthday honorees even took the leftovers home with her.
While these Magic Oat Bars are not health food by any stretch of the imagination, they are healthier than the traditional ones, and they are—without a doubt—delicious. Please give them a try and see what you think.
Oh, and if you do want to try the traditional Magic Cookie Bars recipe that uses graham crackers crumbs, you can certainly buy gluten-free graham crackers and use them.
I also have another solution for you. Some of my blogging friends have successfully made gluten-free graham crackers. Take your pick from the recipes below: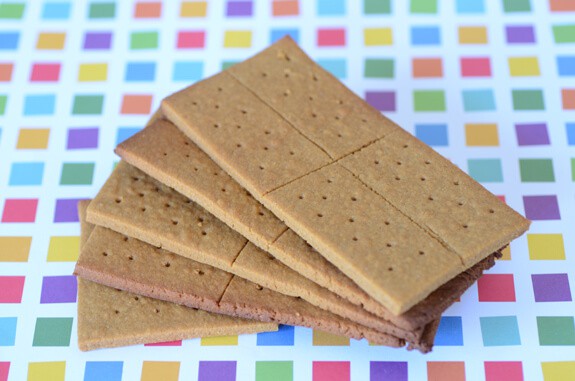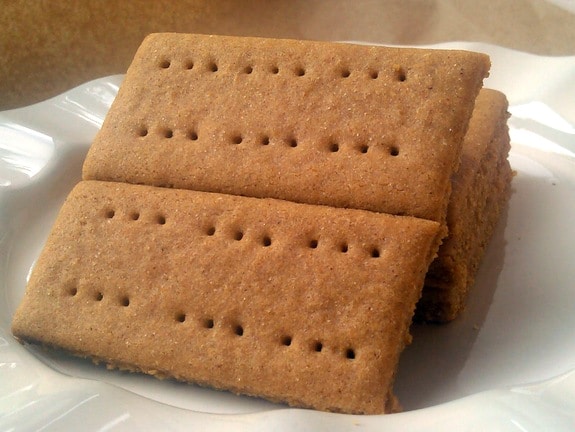 ~ Let Them Eat Gluten-Free Cake
However you choose to make your gluten-free Magic Oat Bars, enjoy!
More Gluten-Free Bars You Might Enjoy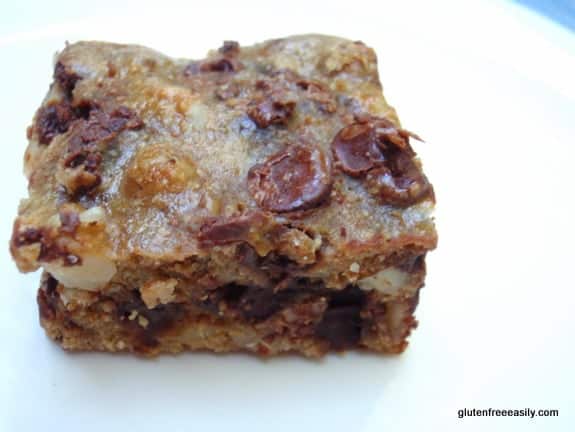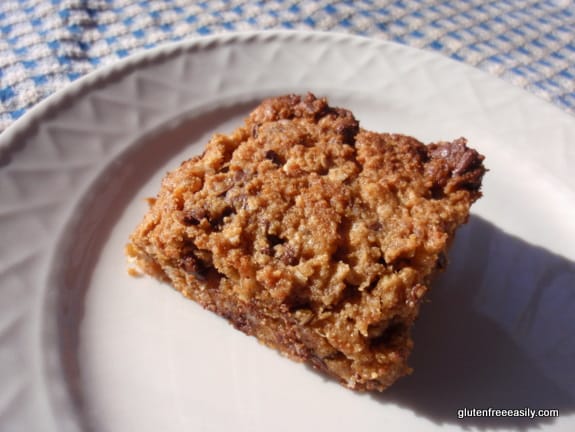 ~ Dark Chocolate Walnut Bliss Bars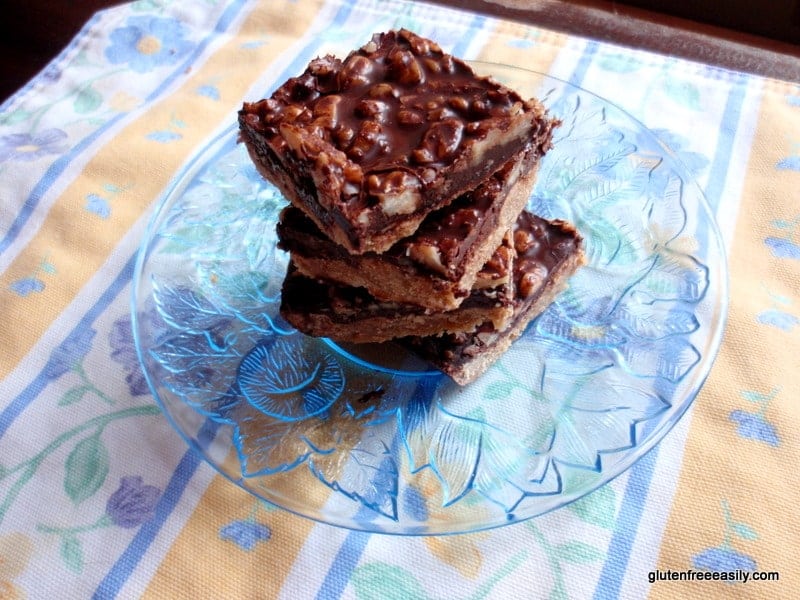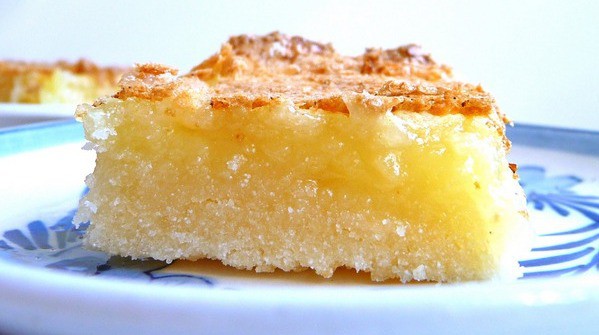 Gluten-Free Magic Oat Bars Recipe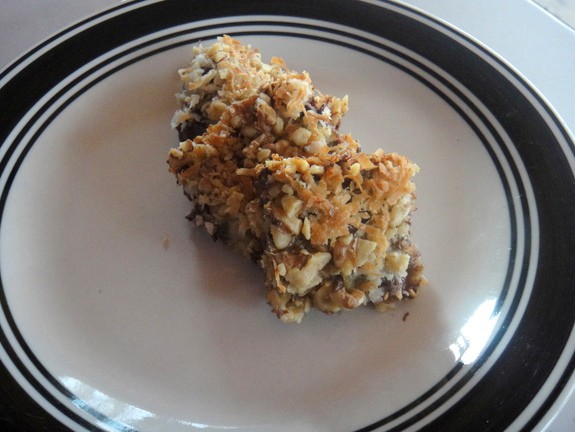 Yield: 18 bars
Gluten-Free Magic Oat Bars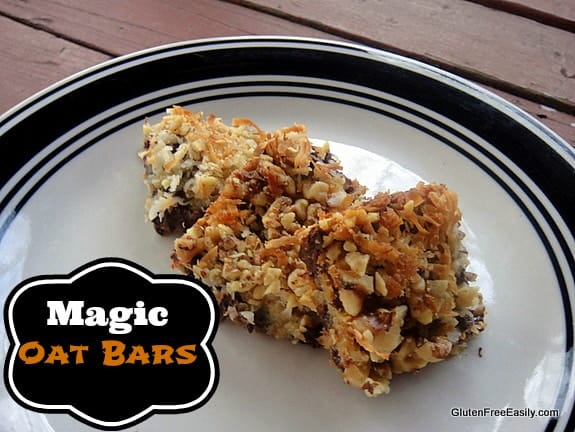 These Gluten-Free Magic Oat Bars are also known as "New and Improved" Magic Cookie Bars or you might recognize these as a gluten-free version of 7-Layer Bars. Whatever you call them, I think you'll love them!

Prep Time 10 minutes

Cook Time 25 minutes

Inactive Time 10 minutes

Total Time 45 minutes
Instructions
Preheat oven to 350 degrees F. Lightly grease 9 x 13 baking dish.
In small bowl, combine oats and butter; mix well. Press mixture into bottom of baking dish. The results will still be somewhat "loose" and may not seem like a crust at all, but have faith.
Pour sweetened condensed milk over oat mixture.
Sprinkle semi-sweet chocolate chips evenly over all.
Sprinkle flaked coconut evenly over all.
Sprinkle chopped nuts evenly over all.
Press down firmly with a spatula across entire surface.
Bake 25 minutes or until lightly browned. Cool.
Cut into bars. Store at room temperature.
Notes
For a dairy-free version, simply use non-dairy "butter," sweetened condensed coconut milk, and non-dairy chocolate chips (like this one). I'd like to play around with this recipe in the future and try coconut oil and coconut milk to make another dairy-free version.

Oats: See the current list of purity protocol oats providers. I think the rolled oats contribute to the chewiness and "structure" of these bars. I'm not sure if a more refined oat product will work. (If you try steel cut or "quick" oats, let us know how they work out.)

Coconut: I used sweetened coconut flakes because that's what I had on hand. Using unsweetened coconut flakes will lower the sweetness quotient a bit, but I'm sure the resulting bars would still taste just fine.

Nuts: For nuts in this recipe, I've used both walnuts and pecans with success.

Originally published April 9, 2010; updated April 22, 2023.