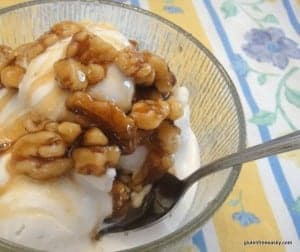 Maple-Nut Ice Cream Sundae
This Maple-Nut Ice Cream Sundae is really every bit as good as the one you can get at the famous Carl's Frozen Custard!
Ingredients
Vanilla Ice Cream
1/3 cup agave nectar or honey
3 cups full-fat coconut milk, chilled (2 cans)
1 ½ - 2 tsp vanilla extract (I used my homemade vanilla extract)
some scraping from inside one vanilla bean (optional, to taste)
Maple-Nut Syrup
1/2 cup agave nectar
1 cup maple syrup
½ cup water
2 cups coarsely chopped walnuts (or walnut halves)
Instructions
Vanilla Ice Cream Instructions
Mix all together in bowl with mixer or in blender.
Add to ice cream maker and churn 20 to 30 minutes.
Chill in freezer after churning if needed.
Scoop and top with maple-nut syrup (recipe below).
Maple-Nut Syrup Instructions
Combine agave nectar, maple syrup, and water in sauce pan.
Bring to a boil slowly, stirring occasionally.
Reduce heat and simmer until syrup thickens, about 15 minutes.
Stir in walnuts; simmer about 5 minutes more. Mixture will thicken upon standing.
Cool enough to serve warm (but not hot) over ice cream or refrigerate and serve later.
Notes
I used a very heavy pan that was much larger than needed so I would not have to worry about stirring constantly to keep the mixture from burning.
I loved the process. As the mixture simmered and bubbled, it put on quite a show as you can see from the photo above.
The syrup will "harden" quite a bit in the refrigerator. Therefore, reheating or at least allowing syrup to return to room temperature may be necessary if it has been chilled for a long period of time.
Recipe by gfe--gluten free easily at https://glutenfreeeasily.com/maple-nut-sundae/