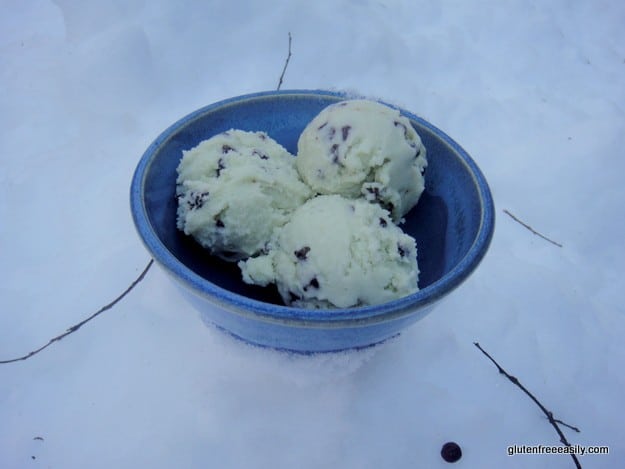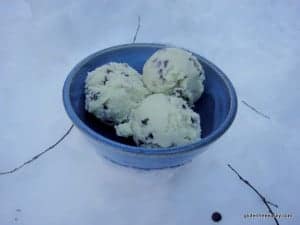 Surprise Mint Chocolate Chip Ice Cream
Ingredients
2 3/4 cups full-fat coconut milk, chilled
2/3 cup honey (to taste, can use slightly less)
1/8 cup fresh spinach (the surprise ingredient! I used baby spinach leaves and discarded the stems)
1 tbsp peppermint schnapps (or 2 tsp peppermint extract)
2/3 cup mini chocolate chips (use only about 1/2 cup if using regular-sized chocolate chips)
Instructions
Mix ingredients except for chocolate chips in blender until there are no visible particles from the spinach leaves.
Pour into ice cream maker. Churn for 20 minutes.
Add chocolate chips and churn another 2 minutes until chips are mixed in.
Notes
I've learned from my fellow bloggers and experimentation that adding alcohol to ice cream ensures creaminess and less crystallization. I usually used Nestle Toll House semi-sweet mini morsels, which contain dairy. However, Enjoy Life chocolate chips are dairy free; another option is using a dairy-free chocolate bar that you've crushed into small pieces. The beauty of making ice cream without eggs is you can keep tasting your mix until you get a taste you like. This recipe made a pale green mint chocolate chip ice cream. It was so pale that I had a hard time getting photos that showed the green properly. But, in reality, it was a lovely color and the ice cream had a light, minty flavor enhanced by the little bits of chocolate.
Recipe by gfe--gluten free easily at https://glutenfreeeasily.com/mint-chocolate-chip-ice-cream/