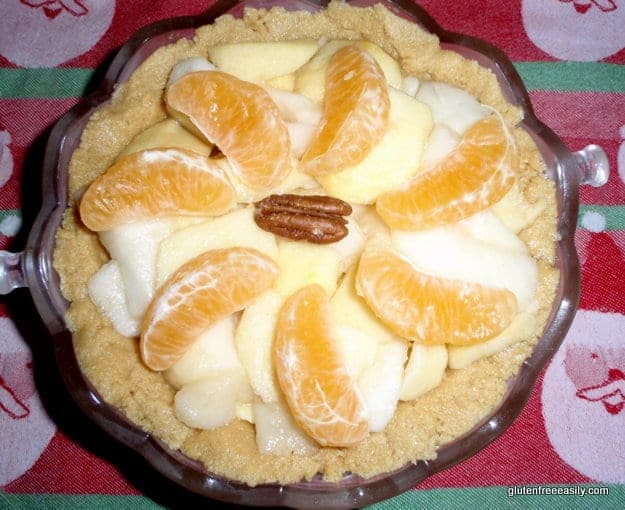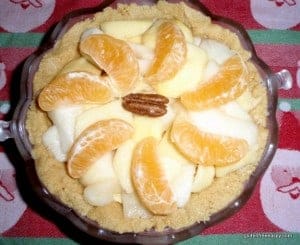 Simple Fruit-Nut Pie
Adapted from a recipe included in newspaper article attributed to Beth Wood, Creators.com
Ingredients
Crust
2 cups finely ground raw almonds
1/3 cup honey (or agave nectar)
Filling
1 ½ to 2 cups seasonal fruit, peeled and cut if necessary (I used 2 pears and one apple)
2 tbsp to ¼ cup honey, to taste (or agave nectar)
Instructions
Combine 2 cups finely ground raw almonds and 1/3 cup honey in mixing bowl.
Press into 5-inch pie dish. (I lightly greased a deep 5-inch holiday-themed bowl with coconut oil, just for ease of removing pieces.)
Mix up to ¼ cup honey and seasonal fruit in a bowl; fill crust. (I used 1 ½ cups of cut, ripe pears and apples.) Garnish, as desired with more fresh fruit and/or raw nuts.
Notes
I enjoyed eating this pie at room temperature, but I recommend chilling after eating due to the fruit content. After chilling overnight (I liked it cold, as well), the pie seemed sweeter to me. So if you are using sweeter fruits like the ripe pears I used, you may want to use less of the honey (or agave) with the fruit. The pears also created a fair amount of their own juice, so if you experience that, you may want to drain some of that juice off and save for another purpose, say a green smoothie or for naturally sweetening your cereal. You could also use more apples and less pears in this particular combination. As you can see in the last photo, I "ungarnished" my pie before I ate it, because I wanted to eat the orange slices separately, but that's just me being odd.
Recipe by gfe--gluten free easily at https://glutenfreeeasily.com/my-first-raw-pie-gluten-free-dairy-free-and-more/