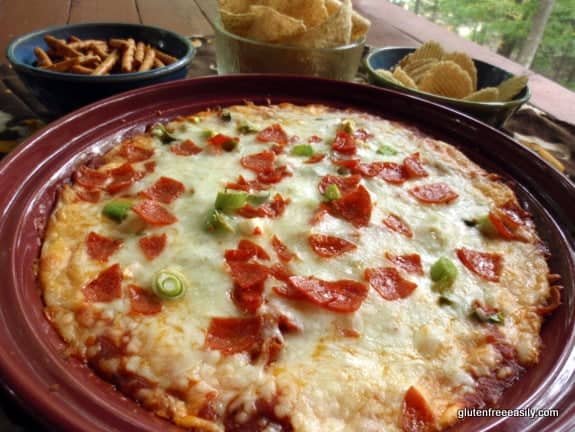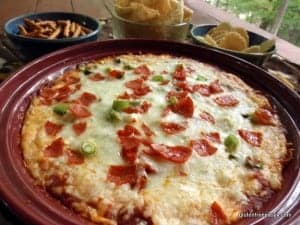 Naturally Gluten-Free Pizza Dip
Ingredients
8 ounces cream cheese, softened
½ cup sour cream
1 tsp pizza seasoning (or 1 tsp in total of a combination of your favorites seasonings for pizza; see notes)
¾ cup pizza sauce (see notes)
About ½ cup chopped pepperoni 
Additional ingredients of choice---about ½ to 1 cup total of chopped green onion; chopped mushrooms; chopped or sliced olives; chopped tomatoes, chopped and fully drained artichoke hearts, chopped and fully drained spinach—whatever you enjoy on your pizza
1 cup of shredded mozzarella
Gluten-free tortilla chips (or other chips), crackers, pretzels, bread sticks, cut veggies, etc. for dipping
Instructions
Preheat oven to 350F degrees. Grease 9-inch pie pan.
Add cream cheese, sour cream, and seasonings to a large bowl. Mix well with hand mixer.
Spread mixture into the bottom of the pie pan. Bake for 10 minutes.
Spoon pizza sauce over baked mixture.
Add most of the pepperoni pieces plus most of the other additional ingredients. Reserve a few of the ingredients to garnish the dip later.
Sprinkle mozzarella over surface of the dip. Top with reserved ingredients.
Bake about 10 minutes longer.
Serve with gluten-free tortilla chips (or other chips), crackers, bread sticks, pretzels, cut veggies, etc. Leftovers may be reheated in the oven or microwave.
Notes
Instead of ready-made pizza seasoning you can use one teaspoon in total of your favorite individual pizza seasonings; e.g., dried oregano, garlic powder, Italian seasoning, ground red pepper, red pepper flakes
I used 30 pepperoni slices.
I don't care for turkey pepperoni as many do, so I precook my pepperoni in the microwave on paper towels about 45 seconds to help remove a lot of the fat and make it crispy before I add it to the recipe.
If you use dairy-free ingredients, bake cream cheese/sour cream/seasonings mixture for about 13 minutes. Top as directed per instructions and bake about 7 minutes longer. You want to ensure that the mozzarella-type shreds just melt slightly.
Recipe by gfe--gluten free easily at https://glutenfreeeasily.com/naturally-gluten-free-pizza-dip-dairy-free-option/