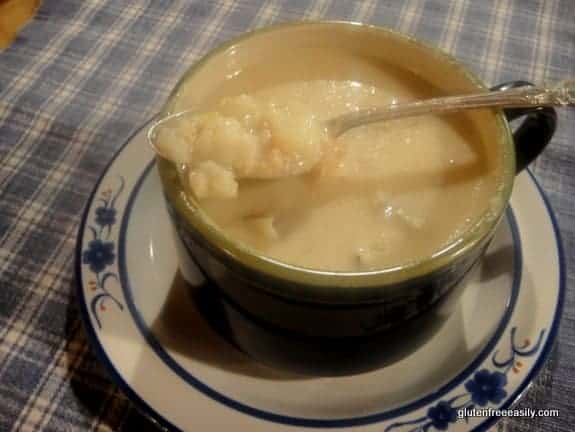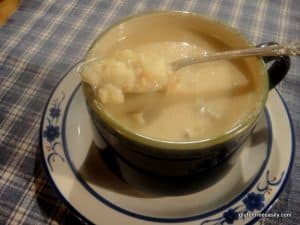 Quick and Easy Gluten-Free New England Clam Chowder
If you've been waiting for a good clam chowder recipe that you can make at home, here you go! Make this Quick and Easy Gluten-Free Clam Chowder either with dairy or dairy-free ingredients as you wish. It's delicious either way!
Ingredients
3 to 4 large russet potatoes
2 6-ounce cans minced clams, drained with liquid reserved
¼ cup butter (dairy or non-dairy)
1 onion, chopped
2 cloves garlic
¼ cup gluten-free flour mix (like mine, or another thickener of your choice)
2 cups of clam liquid and broth (made from gluten-free soup base/bouillon granules), combined (see directions)
1 ½ teaspoons gluten-free, dairy-free soup base or bouillon granules (added to water---see directions)
6 ounces full-fat coconut milk plus 6 ounces almond milk (or other non-dairy milk of your choice) or if you eat dairy, you can use one 12-ounce can evaporated milk
1 tsp seasoning salt (or more to taste)
¼ tsp Old Bay seasoning (optional)
Instructions
Microwave the potatoes about 8-9 minutes or until baked through.
While potatoes are baking, drain clams and reserve juice in a 2-cup measuring cup. Set clams aside.
Set aside cooked potatoes to cool slightly. (You can also use leftover baked potatoes in this recipe.)
In large sauce pan, melt butter and add onion over medium to medium-high heat, stirring occasionally until onions are translucent and cooked most of the way through. Cook about 7 to 8 minutes.
While onions are cooking, fill a teapot/saucepan half way full with water and bring to a boil.
Add garlic to your soup pan. Cook for about 30 seconds, stirring while cooking.
Add flour. Stir to make a roux. (It doesn't take long at all.) Remove from heat so roux will not burn.
Add boiling water to measuring cup that already contains reserved clam juice, filling to 2-cup level. Stir in 1 ½ tsp soup base/bouillon granules. Stir well until soup base/granules are dissolved and becomes clam broth.
Slowly add milk and broth to soup pan and return to heat.
Scoop most of the pulp from one potato, mash it slightly and add to chowder.
Add clams to chowder.
Bring chowder to a boil. Add seasoning salt and Old Bay (if used).
Quickly dice the remaining two potatoes and completely empty skin of the third potato. Add to chowder and heat through for a minute or two. Serve. Enjoy.
Adapt this recipe to your liking. For example, some clam chowder recipes call for crumbled bacon to be added at the end. A gluten-free bread on the side would make for a wonderful meal. I ate my chowder without accompaniment, but Mr. GFE enjoyed a breadstick (gluten-full) with his. There are many gfe "bread" options that would go great with this chowder: Popovers, Garlic Cheese Biscuits, Corn Muffins, Marvelous Cheese Muffins, and Flat and Firm Cornbread, to name a few---all of which can be made dairy free when needed by using ingredients like non-dairy butter, non-dairy milk, and Daiya Cheddar Cheese. (Check out gfe Recipes page for more ideas.)
Notes
I recommend that you use chicken bouillon/granules, replacing the water in the recipe with clam juice and adding the gluten-free, dairy-free chicken bouillon/granules. Even with minced clams, I use my kitchen shears to cut all of the clam pieces very small. (I really don't care for chunks of super chewy clams.) More potatoes will make this chowder thicker, but note that if there is any chowder leftover, it will thicken considerably upon cooling and additional liquid may need to be added before serving. I leave the skins on the potatoes for the extra nourishment they provide. They cook down most of the way and are pretty tender, so we enjoy them in our soups, but if you prefer, you can discard potato skins.
Courses Soup, Main Dish
Recipe by gfe--gluten free easily at https://glutenfreeeasily.com/new-england-clam-chowder/