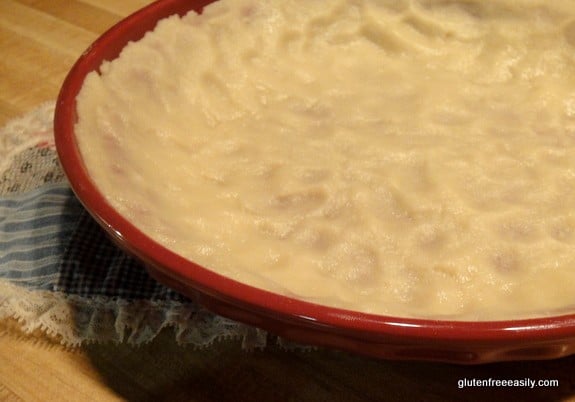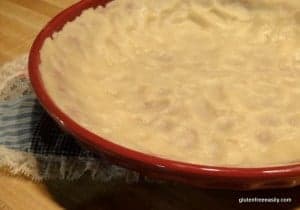 Gluten-Free Never-Fail No-Roll Press-In Pie Crust
Folks this gluten-free Never-Fail No-Roll Press-In Pie Crust is the easy wonderful pie crust recipe you've been looking for. You won't believe it!
Ingredients
1 ½ cup gluten-free flour mix (I use my Two-Ingredient Flour Mix)
1 tbsp granulated sugar
1 tsp salt
½ cup vegetable oil
2 tbsp milk (dairy or non-dairy)
¾ tsp xanthan gum (optional; see notes)
Instructions
Sift flour, sugar, salt, and xanthan gum into 9-inch pie plate.
In a separate small bowl or large glass measuring cup, add milk to oil and stir vigorously with a fork until oil turns into little droplets. (I usually measure my oil in a glass measuring cup and then add the milk to that cup.)
Pour milk and oil mixture over dry ingredients and mix. (I just use the same fork that I used to mix the oil and milk. It works great.)
Pat crust out with hands, trying to make thickness the same throughout and extending crust as high as you would like on the sides of the pie plate.
Fill and bake per your recipe.
Notes
I have used many different combinations of flours successfully. There will be slight variations in flavor and texture with each. For example, when I used my Two-Ingredient Gluten-Free Flour Mix and ½ cup of almond flour (which, of course, made the recipes unsafe for those with nut issues), I thought the crust was a little more crumbly. However, it was still fine for us and I thought it tasted especially good.
I rarely use xanthan gum in this recipe, but it will make your crust bind a tad better and, therefore, a little less crumbly.
Sometimes the salt stands out in the flavor of the crust, but it provides a nice contrast to sweet fillings or a complementary one to savory fillings. If necessary, you can reduce the amount of salt a bit.
Be sure to check out the Pumpkin Pecan Pie recipe.
I don't recommend blind baking this crust (i.e., baking it without a filling).
Recipe adapted from Kevin Roth's Never Fail Pie Crust in Woman's Club of King George Favorite Recipes Vol. 3 Cookbook
Courses Dessert
Recipe by gfe--gluten free easily at https://glutenfreeeasily.com/no-roll-never-fail-press-in-gluten-free-pie-crust/