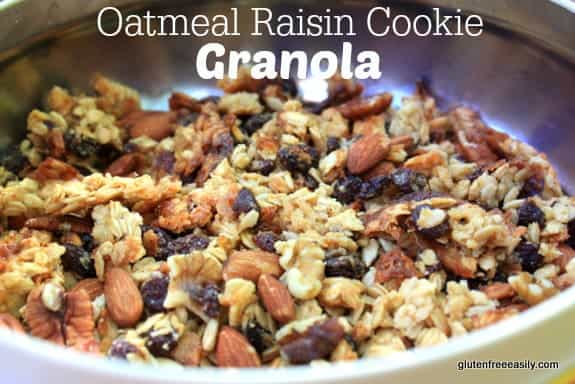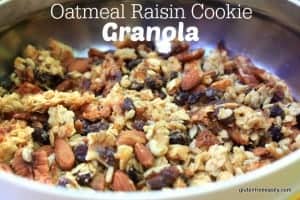 Oatmeal Raisin Cookie Granola
This granola is great for a camping trip, hike, or breakfast or snacking at home—enjoy!
Ingredients
One batch of still hot, slightly underdone Flourless Oatmeal (Raisin) Cookies, broken into smallish pieces
1 cup sunflower or other seeds (e.g., chia seeds, pumpkin seeds)
1 cup walnut halves/pieces
1 cup pecan halves/pieces
1 cup almonds (raw or dry roasted, salted)
Flavorings and spices, if desired or needed, such as cinnamon, nutmeg, vanilla, etc. (I didn't need any when using the Flourless Oatmeal (Raisin) Cookies; see notes.)
Instructions
Make Flourless Oatmeal (Raisin) Cookies recipe as directed, but do not bake the full time. Remove from oven right before baking time is complete. You want the cookies to still be fairly pliable.
Break into pieces.
Immediately stir in seeds and nuts.
Store in airtight container like a cookie tin or very large glass jar with screw-on lid.
Recipe by gfe--gluten free easily at https://glutenfreeeasily.com/oatmeal-raisin-cookie-granola/