This post may contain affiliate links. If you purchase through them, your cost will stay the same, but gfe will receive a few cents for every dollar spent. Thanks for supporting gfe!
Full disclosure:  This post is part of a paid sponsorship from freefromgluten.com. The opinions expressed here are my own. 
UPDATE:  This giveaway is now closed. Thanks to all who entered and congratulations to Paula! (Paula blogs gluten free at Live Free, Gluten Free.)
First, before I talk about today's agenda, did you read my review and enter the giveaway for the essential ingredients for a barbecue? Check out Canyon Gluten-Free Bakehouse hamburger buns, Five Star All-Natural Meat Marinade, Top Shelf Cocktail Mixers, New Planet Beer (sorry, no beer for the giveaway; t-shirt only), and finally, Ethel's Edibles. That giveaway ends Friday; enter here.

Now for what's up today … I have the honor of introducing Free From Gluten as one of my new gfe sponsors. Freefromgluten.com is the largest online gluten-free store. Yes, they state that they currently offer more gluten-free products than any other website. That's such a convenience for one-stop shoppers like me. You may have already noticed their ad on my sidebar. Click on it and you'll get $5 off your first order. Or better yet, enter the Free From Gluten giveaway to win a single order of $75 worth of gluten-free products from this online gluten-free store! 
Oh, wait, I'm getting ahead of myself a bit. Thinking of helping someone stock their gluten-free kitchen can do that to a girl! As you know, my gfe approach is all about eating real food first and foremost, with some mainstream processed foods, and finally some gluten-free specialty items in the mix. The latter is where freefromgluten.com comes into play.  
Ivor Clarke, one of the founders of Free From Gluten, told me the "back story" of this online gluten free store. Basically, two guys (one of them Ivor) promised their gluten-intolerant sisters (one is a naturopathic doctor who also sees many on a gluten-free diet) that they would provide a better solution in regard to choices for gluten-free shopping. You can read more on how Free From Gluten came to be here, but I like their summary best: 
"At Free From Gluten our goal is to ensure that everyone has access to delicious gluten-free foods. We believe there is no reason to sacrifice flavor, variety or enjoyment at mealtime when doing right by your body.  And to prove it, we've put together the world's largest selection of gluten-free foods." 
Free From Gluten has a simple, "clean" design and is an easy to navigate site. I like how when you click on categories on the left side of their site you see Featured Items and Top Products—from their home page to all category and sub-category pages. I've seen products and/or brands I didn't even know existed. Below every product is a dropdown for ingredients and nutrition information. That's info that I often have a hard time locating on websites, so I'm grateful that freefromgluten.com makes it so easy to find. While I still only use a handful of gluten-free specialty products in my gfe approach, I can find every one of them here at freefromgluten.com … products like quinoa flakes, certified gluten-free oats, and xanthan gum.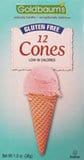 Or maybe you're looking for a product that's not so basic. How about ice cream cones so that you can head to your local, safe ice cream parlor and enjoy a hand-dipped ice cream cone with everyone else? Whatever the product is, it's likely you'll find it on freefromgluten.com. If you don't find an item or have any feedback on Free From Gluten, Ivor and the team ask that you contact them to let them know. More important points: Shipping is free on orders over $50. And you'll want to like the Free From Gluten Facebook page, too, as they often share some really great specials there.  
Now for the fun part … the giveaway of a single Free From Gluten order for one gfe reader valued at $75! Note that Free From Gluten does not offer international shipping at this time. However, as a courtesy to my gfe readers, this giveaway is open to international readers—woohoo! This giveaway ends Tuesday, July 12, at midnight Eastern and there are five ways you can enter:  

~ Check out freefromgluten.com, the largest online gluten free store, and tell us some things you'd like to order. If you don't see a favorite product and want Free From Gluten to carry it, you can note that, too, if you'd like. 

~ Subscribe to gfe by email or reader. Leave a comment here. (If you already subscribe, just leave a comment saying, "I subscribe.") 

~ "Like" gfe on Facebook. Leave a comment here. (If you already "like" gfe on Facebook, just leave a comment saying so.) 

~ "Like" Free From Gluten on Facebook. Leave a comment here.  

~ Share the giveaway on Facebook and tag gfe—gluten free easily in your post. 
FYI–My birthday is coming up soon. I thought I'd celebrate by catching up on several reviews (products, cookbooks, etc.)—all of them with giveaways. Hope you don't mind! 😉