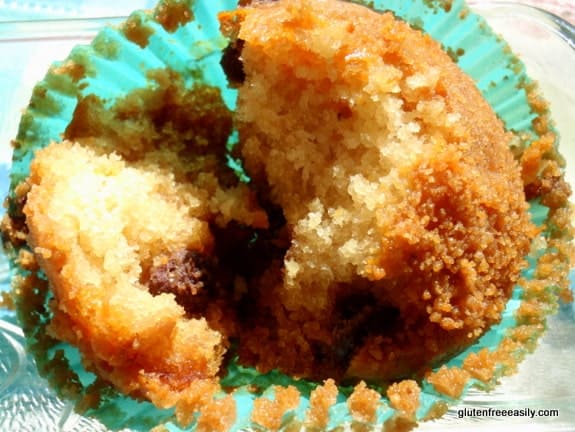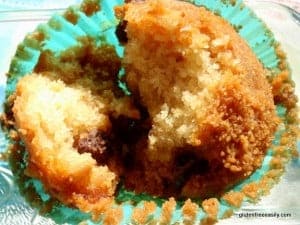 Orange Honey Chocolate Chip Muffins
These delightful orange chocolate chip muffins are gluten free, dairy free, refined sugar free, and easily made vegan, if you wish. They're lovely and light with their orange flavor punctuated by chocolate chips.
Ingredients
Muffin Ingredients
Muffin Topping Ingredients
Instructions
Preheat oven to 375 degrees Fahrenheit. Grease muffin cups or line with cupcake liners.
In a large bowl, combine flour, baking powder, and baking soda. Stir in remaining ingredients, whisking if needed to break up any clumps of flour.
Fill muffin cups about 2/3 full. (Recipe makes 12 muffins.)
Bake at 375F until golden orange, about 15 to 20 minutes. Check doneness with a toothpick.
Let muffins cool about 5 minutes, just long enough to be able to handle them safely. Dip tops of hot muffins in coconut oil, then into coconut sugar. Serve warm or at room temperature.
Notes
For a more intense orange flavor, be sure to add the orange zest. You may also substitute part of the orange juice amount with orange juice concentrate as another way to create a more intense orange flavor if you'd like. I'd recommend one to two teaspoons of orange juice concentrate as part of the ½ cup measurement. (Add concentrate to measuring cup first and then fill with orange juice to ½ cup line.)Inspired by Rodale's Orange-Honey Muffins recipe
Courses Breakfast, Dessert
Recipe by gfe--gluten free easily at https://glutenfreeeasily.com/orange-honey-chocolate-chip-muffins-gluten-free-dairy-free-egg-free/