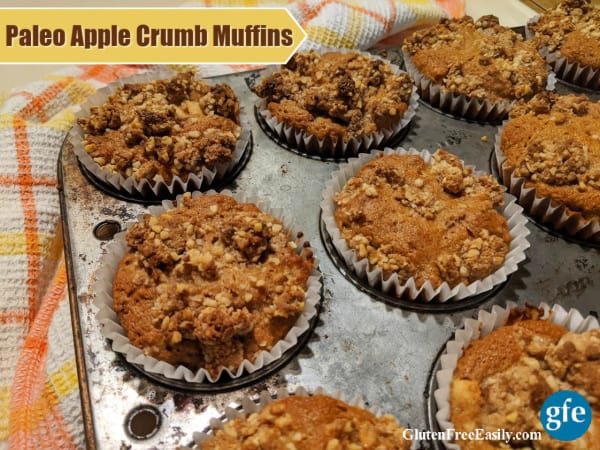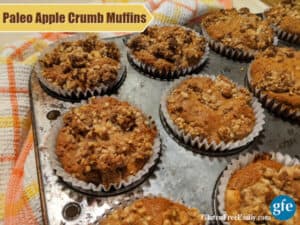 Paleo Apple Crumb Muffins (Gluten Free)
Yield 12 muffins
Apple muffins are taken up a notch with a simple and delightful crumb topping! Gluten free, grain free, paleo, and delicious.
Ingredients
Dry Ingredients
2 cups blanched almond flour (not almond meal), packed
1 tsp baking soda
½ tsp salt
2 tsp cinnamon
Wet Ingredients
2 cups apple, peeled and chopped (about four small-sized apples or two large apples),
½ cup applesauce, unsweetened
3 large eggs
1/3 cup coconut oil, liquefied
1/3 cup honey
1 cup walnuts (or other nuts or seeds of choice), chopped
Crumb Topping Ingredients
½ cup almond flour
2 tbsp ground walnuts
1 tsp cinnamon
2 tbsp honey (or maple syrup)
Instructions
Preheat oven to 350° F.
Add muffin/cupcake liners to muffin tin.
Mix dry ingredients together in a large bowl. Use your whisk to break up any lumps.
Add wet ingredients to mixture. Mix until just combined.
In a small bowl, mix crumb topping ingredients.
Pour muffin batter into the muffin liners.
Spoon or crumble the crumb topping over batter in each muffin liner.
Press crumb topping into muffin batter slightly using your fingers or the back of a spoon.
Bake for about 25 minutes. Check with toothpick for doneness.
Cool about 5 to 10 minutes.
Notes
I like to refrigerate these muffins after we enjoy some of them warm out of the oven. They will keep for several days.
Courses Breakfast
Recipe by gfe--gluten free easily at https://glutenfreeeasily.com/paleo-apple-crumb-muffins-gluten-free/