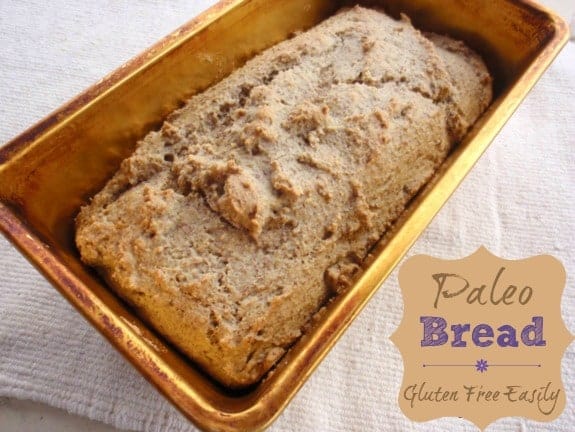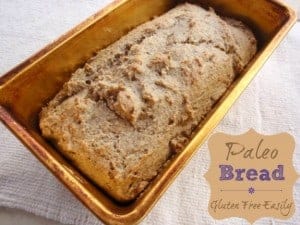 Easy Paleo Bread
My Easy Paleo Bread is a nice addition to any meal, but also works for breakfast with jam or other spread and makes for tasty sandwiches. Naturally gluten free, grain free, dairy free, and refined sugar free.
Ingredients
4 to 5 eggs (see notes)
2/3 cup flax meal
1 1/3 cup almond flour, finely ground like Honeyville (other finely ground nut flours may be substituted)
1 1/2 to 2 tsp grain-free baking powder (see notes for easy grain-free, frugal substitution)
1/2 tsp (or more) salt (I use this one)
about 2 tbsp olive oil or coconut oil (or non-dairy butter for a non-paleo version)
1/4 cup almond milk (or other non-dairy milk, such as this one; optional, if 5 eggs are used)
Instructions
Preheat oven to 350F and grease loaf pan.
In large bowl, gently beat eggs together before adding dry ingredients. Mix well.
Transfer batter to greased loaf pan. Batter will be thick; you'll need to use a spoon or spatula to spread it evenly in pan and smooth top.
Cook for approximately 20 – 25 minutes, until somewhat brown on top. Use toothpick test in the center of the bread to check for doneness.
Enjoy fresh out of the oven or at room temperature for a nice sandwich. I usually let mine cool about 5 to 10 minutes before removing from pan.
Notes
Sometimes I use 4 eggs and the almond milk. Sometimes I skip the almond milk, use 5 eggs, and another ½ teaspoon of baking powder. Sometimes I use less or no flax meal and use a different nut meal in addition to the almond flour instead. And so on and so forth. Feel free to "play" with this recipe a bit.
Be sure to use a grain-free baking powder or grain-free baking powder substitution to make this bread completely grain free. A common substitution for baking powder is a mix of baking soda, cream of tartar, and arrowroot, but truthfully, you don't need the arrowroot in this mixture in my opinion and you need less of the baking soda and cream of tartar combination than you do actual baking powder. So this is not only a grain-free tip, it's also a frugal one. For every teaspoon of baking powder needed, add ¼ teaspoon of baking soda and ½ teaspoon of cream of tartar. In this recipe, I'd just go ahead and substitute for the higher amount of baking powder, using ½ teaspoon of baking soda and 1 teaspoon of cream of tartar. The general advice is not to make this mixture up in advance as it may not keep well. I learned this tip from The Tightwad Gazette many years ago, when author Amy Dacyczyn was still publishing her newsletter of that name. But The Complete Tightwad Gazette, a compilation of her very helpful newsletters, is still available.
Recipe inspired by Kiva's Golden Flax Bread recipe (The Medicine Woman's Roots)
Courses Bread
Recipe by gfe--gluten free easily at https://glutenfreeeasily.com/paleo-bread/