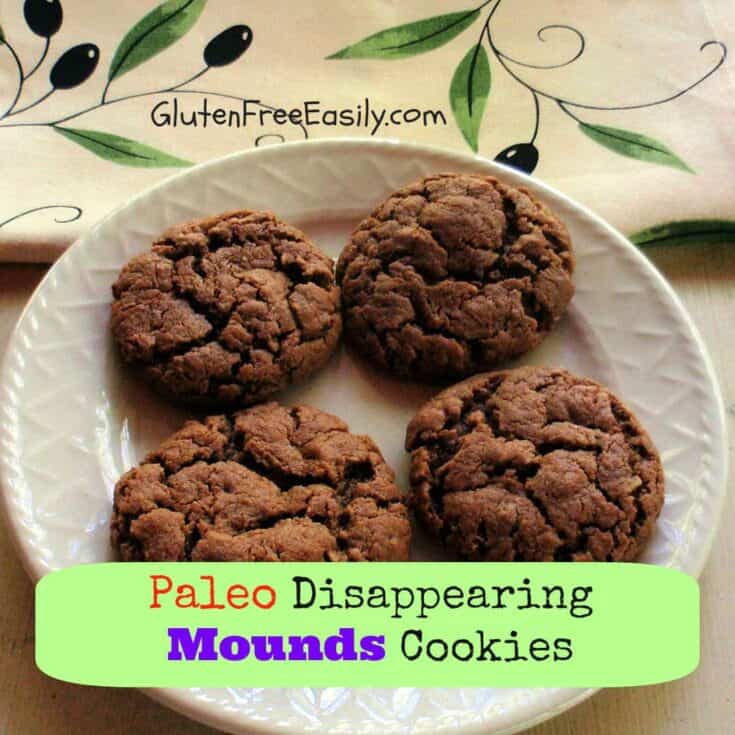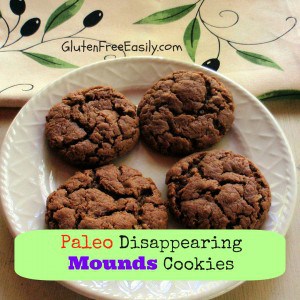 Gluten-Free Disappearing Mounds Cookies (Paleo)
Instructions
Preheat oven to 350F.
In a large bowl, mix all ingredients together well. I use a wooden spoon to mix my cookies, breaking the yolk of the egg with the spoon right inside the mixing bowl and slightly beating it before stirring in the other ingredients.
Form dough into 1-inch balls.
Places balls on ungreased baking sheets about 1 ½ to 2 inches apart. (Do not press down as in some traditional recipes. See exception in Notes.)
Bake about 8 minutes. Cookies will look set, but not done.
Remove baking sheet from oven and allow cookies to sit for another 5 to 10 minutes. (This step is very important because cookies finish baking during this time and totally set up.) Remove cookies for cooling.
Notes
Makes about 16 to 18 cookies (2 ½ inches in diameter).
As I noted in my comments before the recipe, not all the substitutions that I've cited in parentheses in the recipe would be paleo.
I don't always measure my almond butter (sunbutter or peanut butter) if I'm at the bottom of the jar. If I "eyeball" and it looks like close to a cup, I just add it to the mixing bowl. If the ingredients don't come together and allow you to form balls, you'll know you need to add a little more.
The color/darkness of the cookies will be different if you use SunButter or peanut butter in this recipe.
If using natural peanut butter, sometimes it's best to press down a bit before baking—with a fork or the bottom of glass—so that the cookies will spread enough. However, I don't press down when I use almond butter or homemade nut butter, so you might want to experiment to see which method you prefer.
SunButter has a much stronger flavor than nut butter or peanut butter, so you might wish to add a bit more raw cacao powder or cocoa powder.
Using unsweetened shredded coconut makes for a mildly sweet cookie. Using sweetened shredded coconut makes for a much sweeter cookie.
For an ultra decadent version of this cookie, feel free to add some chocolate chips to your recipe.
Courses Dessert
Recipe by gfe--gluten free easily at https://glutenfreeeasily.com/paleo-gluten-free-disappearing-mounds-cookies/