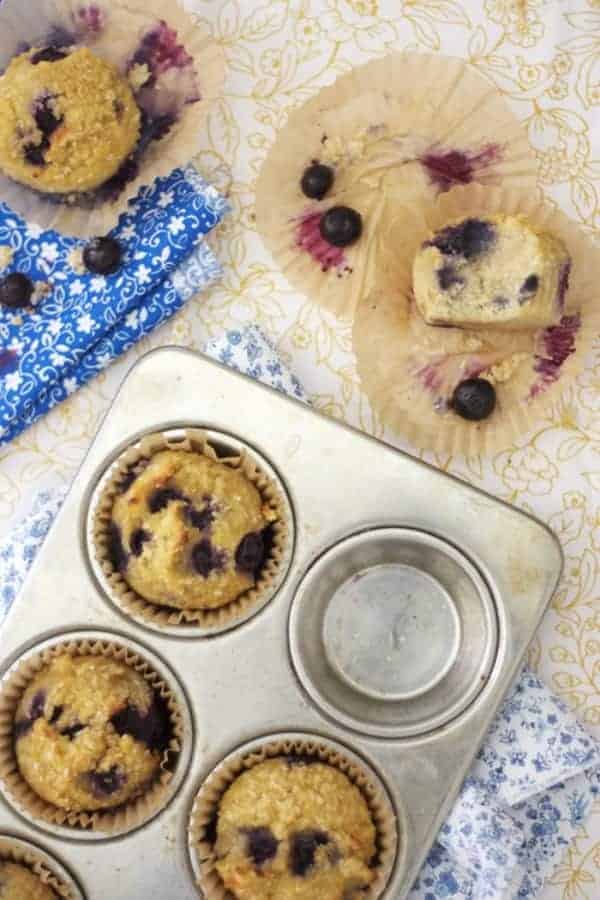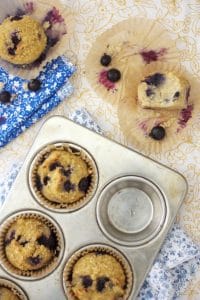 Paleo Shredded Coconut Blueberry Muffins
Kelly says: "These Paleo muffins have amazing texture, which is surprising since they don't contain any starch. I have used arrowroot in place of the flax meal and the results are equally good. These muffins are cake-like, but with some grittiness from the shredded coconut. So delish. And there's only 1/4 cup of honey in all 12 muffins, thanks to my good friend Mr. Stevia. I would keep on and on about my love for these muffins, but it's time for breakfast here, so I'm off to eat one now."
Ingredients
Wet Ingredients:
5 eggs, brought to room temp in a bowl of hot tap water
3/4 cup applesauce with no added sugar
1/4 cup melted coconut oil
1/4 cup honey
1/4 tsp liquid vanilla stevia
1 ½ cups blueberries
Dry Ingredients:
Instructions
Set the oven to 350F degrees.
Whisk the dry ingredients in a bowl.
Combine the wet ingredients except for the blueberries in a separate bowl.
Add the dry ingredients to the wet and mix until just combined.
Immediately fold in the blueberries (the batter will thicken as it sits, so fold the blueberries in right away).
Use an ice cream sized scoop with a lever (a 1/3-cup scoop) to fill 12 unbleached muffin cups. (Note: If you don't use a scoop the tops just won't be quite so round.)
Bake for about 30 minutes.
Notes
Makes 12 muffins.
Reprinted with permission from Kelly Brozyna.
Recipe by gfe--gluten free easily at https://glutenfreeeasily.com/paleo-shredded-coconut-blueberry-muffins/