For affiliate links and as an Amazon Associate I earn from qualifying purchases.
Yes, you get a "two-for-one" deal today! It's the Black Bean, Corn, and Salsa Soup, which I created right from my pantry, and Paleo Bread combo. What could be better than soup and bread, right?
Especially with the snow, rain, fog, and just plain cold weather that we've had of late. And wait it gets better … how about if I tell you that you can have this meal made and ready to eat in 30 minutes? Yes, it's true.
The hallmark of gfe is recipes that are gluten free easily—of course—with the primary focus of my approach being consuming foods that are naturally gluten free. I'm very happy to say that both of these recipes meet that requirement, although the first recipe is made of ingredients everyone (gluten free or not) keeps on hand.
The second, the bread recipe, does contain items you won't find at your average grocery store—namely almond flour and flax seed (specifically, flax meal)—but many of us who are gluten free (or more free) keep these as staples in our homes.
You see a lot of gluten-free menu plans online and I admire all of these folks who offer these menu plans. I agree that menu planning can make so much sense and save money. However, with just the two of us (and even when there were three of us), I tend to loosely plan and make up things as I go.
So far that approach has worked well with us, and since I am often the queen of reinventing leftovers and even small amounts of food, it's fairly rare for any food to go to waste in our house.
Admittedly, there are moments though when I think hmmm, what the heck are we going to eat tonight? That's always true when the frozen meat I put in the fridge to thaw is still frozen days later. But the good news is that with eating gluten free, I don't typically bail and say "let's eat out!" Instead, I look to my pantry.
I consider my pantry to be my actual "closet pantry" in my kitchen, plus my refrigerator, and my freezer. A partial jar of salsa, chicken broth, black beans, corn—and a small amount of leftover ground venison added to Carnivore Man's (aka Mr. GFE) bowl—made enough soup for us for two meals, with even a little left over for my breakfast this morning.
Frankly, this soup could not have been easier or tastier. So it was definitely gfe and I'll be making it (or some variation thereof) often in the future!
As you can see, I served my soup with some bread. Homemade bread. Paleo Bread.
Other Gluten-Free Soups and Breads That Make the Perfect Combo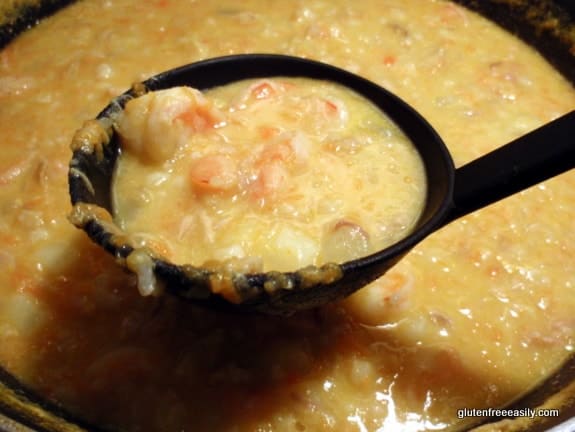 and
~ Homemade Red Lobster Garlic Cheese Biscuits
~ Vegetable Noodle Soup with Gluten-Free Egg Noodles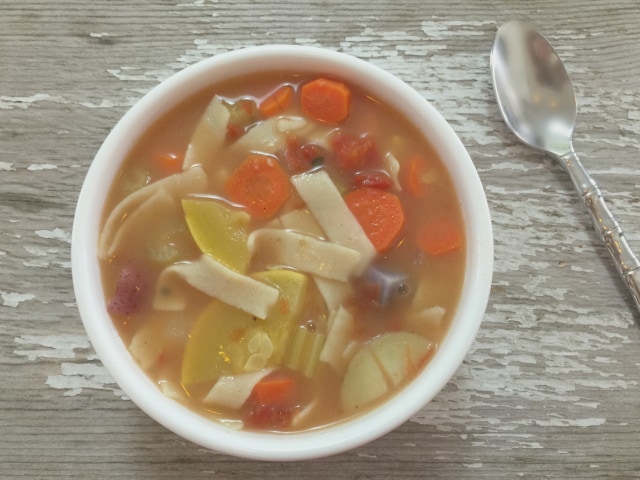 and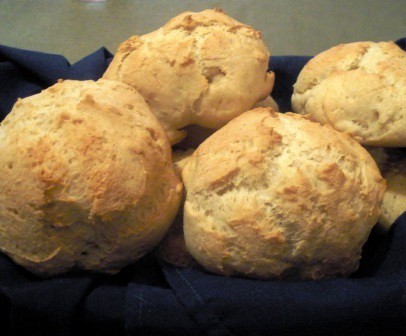 ~ Slow Cooker Black-Eyed Pea Soup with Ham and Chicken
and
Gluten-Free Pantry Black Bean, Corn, and Salsa Soup Recipe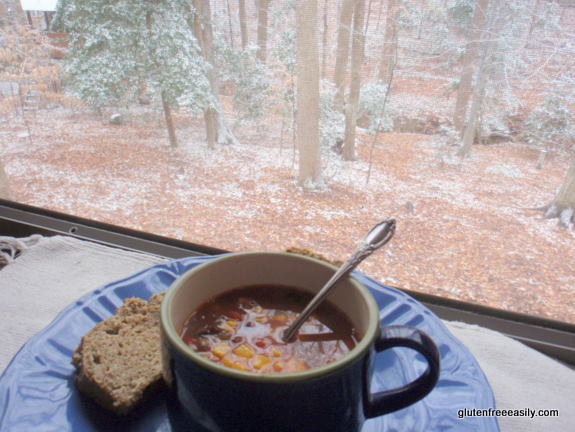 Yield:
Gluten-Free Black Bean, Corn, and Salsa Soup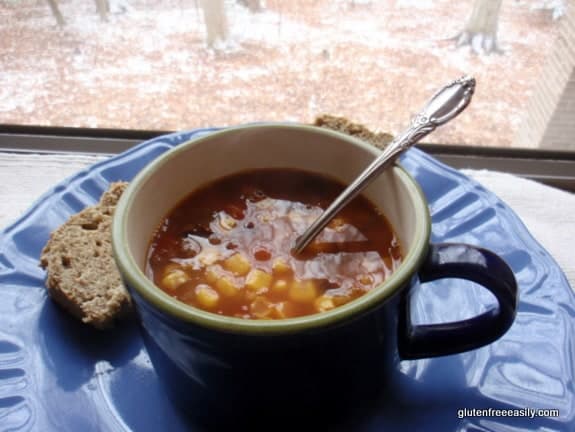 Who doesn't love a quick, easy, and delicious soup that you can make with ingredients straight from your pantry? This soup is simple and satisfying comfort food at its finest!
Ingredients
1 cup salsa (of desired heat level)
2 cups chicken or vegetable broth
1 can black beans (15.5 ounces), drained and rinsed (or equivalent amount of cooked, fresh beans)
1 can corn (15.5 ounces), drained (or equivalent amount of frozen or fresh, already cooked corn)
Optional ingredients: Small amounts of other cooked vegetables and/or meat if desired. As I already stated, I did add some cooked ground venison to Mr. GFE's bowl---about ½ cup in total (1/4 cup per bowl). If he'd seen how little I added, he would have squawked, but he didn't and proclaimed this soup "excellent."
Instructions
Add salsa and broth to large saucepan. Stir.
Add black beans, corn, and any additional ingredients. Stir.
Cook over medium to medium-high heat, stirring every few minutes, until sufficiently hot, about 10 minutes or so.
Serves four. (Soup mug size servings.)
Serve soup alone or with your favorite gluten-free bread.
Notes
I used "medium" heat purchased salsa and it was perfect!
Using one's own homemade salsa will also ensure that this soup is also sugar free. I'm lucky enough to receive homemade salsa from a friend and some of it always finds its way into a good pot of soup, usually my Tasty Tortilla Soup.
If I'd had more black beans, I probably would have increased the amount of black beans and possibly decreased the amount of corn, but Mr. GFE loved the sweet corn balancing the spiciness added by the salsa.
The salsa adds exactly the right amount of flavor and seasonings; no additional herbs or spices are needed per our tastes.
A little leftover turkey or chicken would also be great in this soup.
Originally published January 23, 2012; updated October 26, 2021.