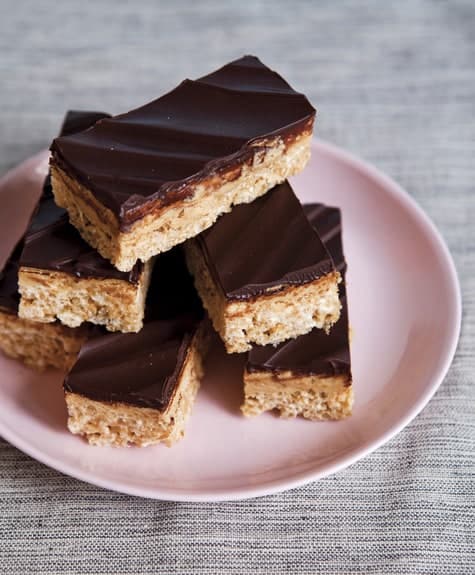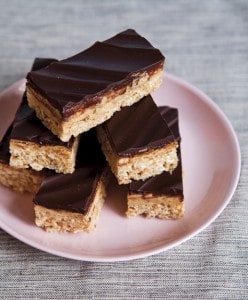 Gluten-Free Chocolate Peanut Butter Truffle Crispy Rice Bars
Ingredients
Crispy Rice Layer
Peanut Butter Layer
Chocolate Layer
Instructions
Spray an 8 by 11-inch baking pan with gluten-free cooking spray and set aside.
To make the crispy rice layer, melt the butter in a large pot over medium heat, stirring occasionally, until the butter browns, 3 to 5 minutes. Add the marshmallows and vanilla and stir continuously until the marshmallows are melted. Remove from heat and stir in the cereal. Pour entire contents into the baking pan. Wet or grease your hands and pat down the cereal so it is level and compact. Freeze for 15 minutes to cool and set.
Using a stand mixer with a paddle attachment, combine all the ingredients for the peanut butter layer and blend on low speed. Remove the crispy rice layer from the freezer and spread the peanut butter filling evenly over it. Freeze until firm to the touch, 30 to 60 minutes.
In a microwave-safe bowl, or over a double boiler, melt the chocolate and butter for the chocolate layer and stir together until smooth. If using the microwave, heat at 30-second intervals, stirring well in between each interval. Working quickly, spread the chocolate evenly over the peanut butter layer. If the peanut butter is cold, the chocolate will set quickly.
Freeze the pan again, 15 to 30 minutes, as it will be much easier to cut if the peanut butter layer is firm. Cut into bars and serve cold or at room temperature.
Notes
Makes 18 bars.
Reprinted with permission from Sweet Cravings: 50 Seductive Desserts for a Gluten-Free Lifestyle by Kyra Bussanich (Ten Speed Press, © 2013).
Photo Credit: Leela Cyd.
Courses Dessert
Recipe by gfe--gluten free easily at https://glutenfreeeasily.com/peanut-butter-truffle-crispy-rice-bars-sweet-cravings-kyra-bussanich/