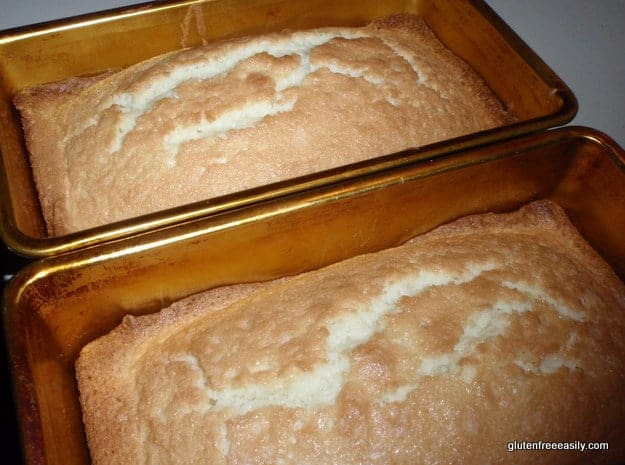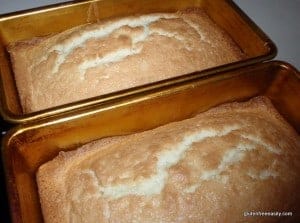 Perfect Gluten-Free Pound Cake
I don't use the word "perfect" too often, but this recipe really does yield perfect gluten-free pound cake! Honestly, even if you're not gluten free, you will find that this pound cake truly is perfect! 
Instructions
Preheat oven to 350 degrees Fahrenheit. (See notes for adjustment for high altitudes.) Grease two loaf pans or grease and flour (use gluten-free flour) a Bundt pan.
Combine flour, xanthan gum, sea salt, and baking powder in a medium mixing bowl. Set aside.
Pour olive oil into large mixing bowl, and slowly mix in sugar, orange juice, and vanilla extract.
Add eggs one at a time, stirring after each addition. 
Add milk. Mix 2 minutes. Gradually add dry ingredients into wet ingredients, mixing well.
Pour batter into loaf pans or Bundt pan.
Bake for 50 – 55 minutes.
Notes
Adapted from Filippio Berio.
Reader Wendy lives at a higher altitude---6600 ft---and she adjusted oven temperature to 375 degrees with successful results.
Coconut oil works fine in this recipe, but produces a cake that's lighter in flavor. I prefer the richer taste that the light olive oil provides. (Again, please do not use extra virgin olive oil in this recipe as the flavor is too strong.) Pans can be greased with whichever oil you use.
Two loaf pans are what the original recipe calls for and what I used. Don't worry too much over the size of the pans, although you may have to adjust cooking times. The original recipe called for 6 3/4" x 3 1/2" x 2" loaf pans. I (and one gfe reader) used 8 1/2" x 4 1/2" x 2 5/8" pans.
I don't taste either the coconut milk or orange juice in this recipe; perhaps they balance each other, but all I taste is "good."
Last, I love the crunchy edges of this pound cake recipe. The end pieces are my absolute favorite.
Recipe by gfe--gluten free easily at https://glutenfreeeasily.com/perfect-pound-cake/