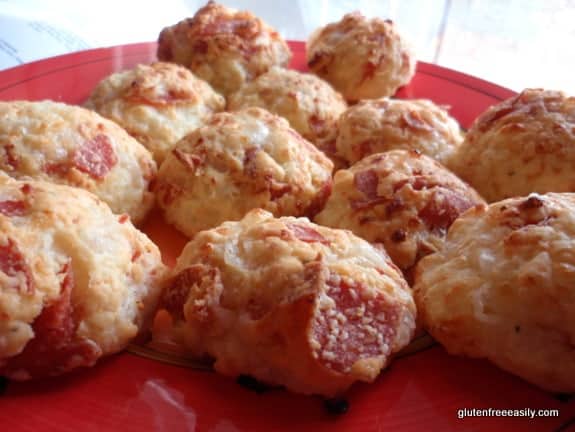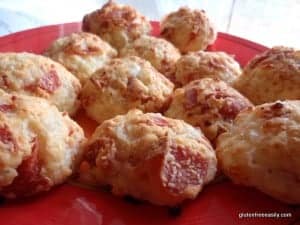 Gluten-Free Pizza Bombs (Pao de Queijo "Chebe-Style" Pizza Rolls)
These gluten-free Pizza Bombs are an easy and unbelievably delicious way to get your pizza fix! 
Instructions
Preheat oven to 450 degrees F. Line large baking sheet with parchment paper.
Add eggs to large mixing bowl. Beat slightly. Add other ingredients in order shown, stirring some after each addition. (Stir gently when adding tapioca flour as it tends to "jump" out of the bowl.) Once all ingredients have been added, stir well until ingredients are fully incorporated. I like to use a wooden spoon (gotta keep up one's hand and arm strength).
With lightly greased hands, form dough into balls about 1 ½ to 2 inches in diameter and place on the baking sheet about 2 inches apart. At this point, you can flatten the dough balls with your hands some if you wish, but I usually just leave mine "as is" to get more of the "bomb" effect (than roll effect). I also think that the centers turn out chewier this way.
Bake for about 8 to 10 minutes until golden brown.
Let cool just a bit and then remove from baking sheet. Add to individual platter or plates and serve with pizza sauce (or sauce of choice) for dipping. Giving each person his/her own small container of dipping sauce will prevent that always present "double dipping" concern.
Makes about 15 "bombs," about 2 ½ to 3 inches in diameter.
Notes
I used my kitchen shears to cut cooked pepperoni into smaller pieces before adding to dough. I used dairy butter and dairy cheese to make this recipe, but readers have reported making this recipe successfully using dairy-free "butter" (or ghee) and dairy-free cheese like Daiya Mozzarella Style Shreds.
Recipe by gfe--gluten free easily at https://glutenfreeeasily.com/pizza-bombs-gluten-free-pao-de-quejo-chebe-style-pizza-rolls/