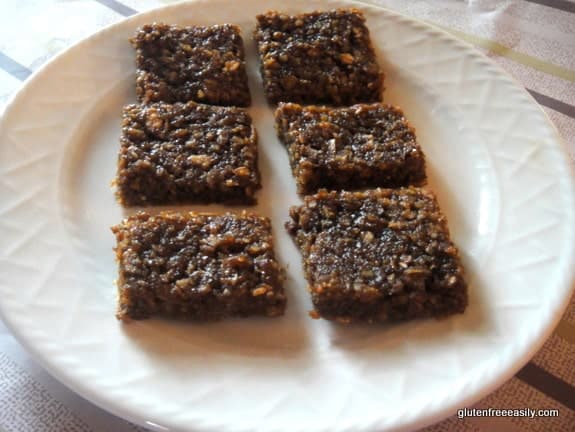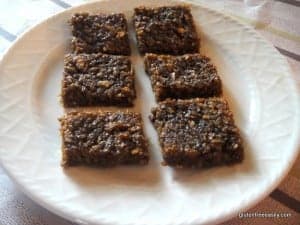 Popeye Protein and Fruit Bars
Ingredients
½ cup walnuts
¼ cup pecans
1 cup peeled, chopped apple (I used 1 golden delicious)
½ cup almond flour
½ cup quinoa flakes
½ cup coconut flakes
¼ cup gluten-free oats
¼ cup sunflower seeds
¼ cup unsulphured blackstrap molasses (or maple syrup or agave nectar)
1/8 cup honey (or maple syrup; I used raw honey from our bees)
1 tsp cinnamon (optional)
½ tsp nutmeg (optional)
Additional drizzle of honey (or maple syrup or agave nectar) for binding and/or sweetening, if needed
Instructions
Preheat oven to 250 degrees Fahrenheit. Grease 9 x 13 (or similar sized) baking dish or cookie sheet with sides.
Add walnuts and pecans to food processor and process 30 – 60 seconds until almost ground.
Add apples and continue processing about 30 more seconds or so until the apple pieces are very finely chopped and blended into the nut mixture.
Add almond flour, quinoa flakes, oats, and sunflower seeds, processing about 15 seconds or so.
Add in molasses, honey, cinnamon, and nutmeg; process until just combined. If mixture does not yet appear to be spreadable, drizzle in a tad more honey. Process just a few seconds.
At this point, if your mixture appears well combined, you can go ahead and use a spatula to spread mixture into your greased pan. However, I wanted to check out my mixture and taste it first, so I added it to a bowl and stirred some there, pulling out a bite to eat, before adding it to the pan.
Bake for about 45 minutes for chewy bars; longer for crunchy bars. As Katie advises, be careful not to overcook as the taste of burned molasses is not pleasant.
Cool. Cut into squares using a pizza cutter. Keep refrigerated.
Notes
Adapted from Katie Kimball at Kitchen StewardshipPreparation - I used olive oil to grease my glass baking dish. Chocolate Chips - Katie's original recipe called for ¼ cup chocolate chips. I didn't have any, but they would probably work well in this variation even with the apples. Food Processing - Times may vary; I have a very old food processor so it takes longer than the new, improved ones. Sweeteners - Since even blackstrap molasses is considered refined, you can use either maple syrup or an agave nectar that you do not consider refined/processed. Maple syrup can also be used in place of the honey. The main thing here is to keep the amount of the liquid ingredients the same. You can use all honey or substitute your preferred ingredient for the total amount, but Katie says that if you remove the molasses then you'll simply have to call them energy or protein bars. For those who eat molasses, Popeye bars sound like so much more fun, don't they? Katie used a combination of molasses, maple syrup, and just a drizzle of honey for binding in her original recipe. My version has a stronger molasses taste, which I like, but if you don't, you might want to vary your choice of sweetener amounts to be less molasses and more of the other(s). Spices - I forgot the cinnamon and nutmeg. While I didn't feel the recipe was missing anything, I'm sure the cinnamon and nutmeg would add nice flavor. Storage - Although I originally kept these refrigerated as Katie advised, leaving them out didn't cause a problem. I rather liked them better at room temperature. So storing in a lunch box until lunch time wouldn't be a problem.
Courses Breakfast, Snack
Recipe by gfe--gluten free easily at https://glutenfreeeasily.com/popeye-protein-fruit-bars/