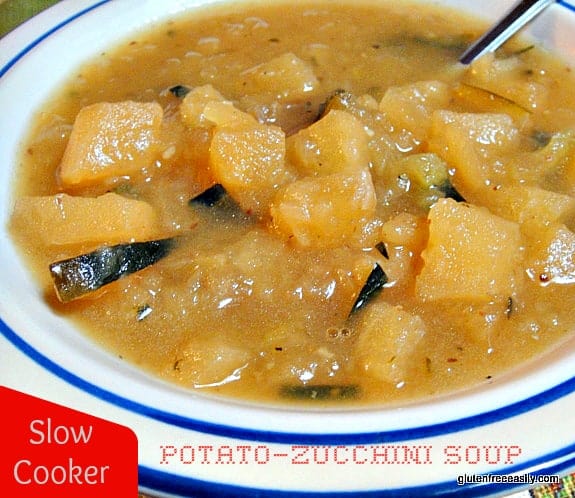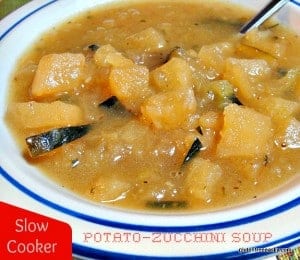 Slow Cooker Potato-Zucchini Soup
Instructions
Add broth to large slow cooker. (I used my oval, 5-qt programmable slow cooker.)
Peel and dice potatoes and add to slow cooker.
Add olive oil to large skillet. Heat to medium-high temperature. While skillet is heating, chop onions and quarter and slice zucchini thinly. Add to skillet. Stir occasionally. Add garlic about halfway through cooking. When onions are translucent and zucchini is also showing some translucency, transfer mixture to the slow cooker.
Stir in curry powder, sea salt, and pepper.
Cook 6 – 8 hours on low. About 30 minutes before the end of the cooking time, use your immersion blender in one area for about 15 seconds. Stir. Check appearance and taste. If you want a thicker soup, use immersion blender again. Stir and cook an additional 30 minutes.
Serve. Enjoy alone or with a nice gluten-free "bread" treat on the side---like popovers, corn muffins, cheese muffins, garlic cheese biscuits, or my Paleo Bread.
Notes
If you have family members who are die-hard carnivores and must have meat, feel free to add some crumbled bacon or diced chicken towards the end of the cooking time. You could even add bacon, chicken, etc. to individual's bowls (per their personal preferences) and stir until heated through.
I don't recommend using low-sodium broth in this recipe.
This recipe makes a lot, so feel free to halve the ingredients, use a regular 4-qt slow cooker, and reduce the cooking time.
If you'd prefer to cook it on the stove, I'd still recommend slow cooking at a lower heat. I do love a pot of soup simmering on the stove!
Adapted from a reader-submitted recipe to the 4 Ingredients newsletter
Courses Soup, Main Dish
Recipe by gfe--gluten free easily at https://glutenfreeeasily.com/potato-zucchini-soup/