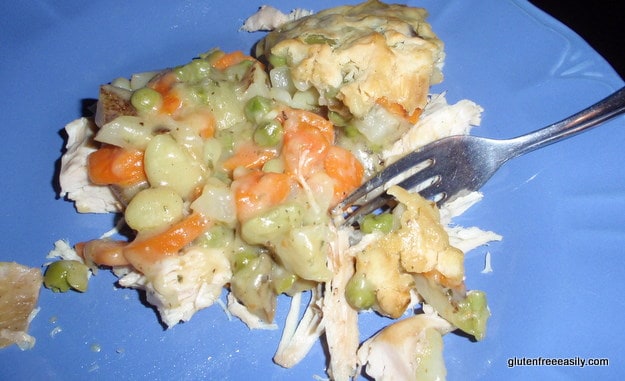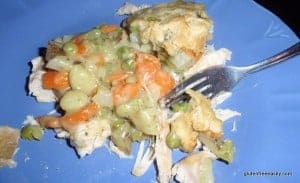 Gluten-Free Pot Pie (with Chicken or Turkey, or Vegan)
Reader review:  "I can't even begin to tell you how much my entire family and I LOVED this recipe! Completely and totally amazing and better than any (including "gluten full") pot pie I have ever eaten!"
Ingredients
Filling
Crust
2/3 cup gluten-free flour mix (I use my Two-Ingredient Flour Mix)
1/2 tsp sea salt
3/4 tsp baking powder
slightly less than 1 cup milk or non-dairy milk (I use full-fat canned coconut milk)
Instructions
In large, deep skillet or Dutch oven, heat 3 tablespoons oil and add the onions, carrots, potatoes, parsley, thyme, oregano, sea salt, and pepper. Allow to cook on medium-low or medium heat until vegetables are softened.
Add chicken broth and bring to a boil. Allow it to simmer about 2 minutes, then add peas and lima beans and cook until tender.
Preheat oven to 375 degrees F. Meanwhile, in a saucepan, mix the 1/3 cup flour and 2 tbsp oil until blended, and heat on medium-low a minute or two until thickened. Add the milk gradually to make a white sauce. When the mixture is almost thickened, add to the vegetable mixture. Stir in chicken or turkey, if desired. When all is thickened nicely, pour into a medium-sized greased casserole dish or deep dish pie plate. 
In same saucepan, whisk together crust ingredients: flour, salt, baking powder, and milk. Pour over top of filling in casserole dish or pie plate. Even out the topping with a spatula, not quite going to the edge of the dish (leaving this space allows venting, if needed). Place pot pie into preheated oven and bake for 30 – 45 minutes, until crust is lightly browned.
Notes
Adapted from gluten-free-diet-help.com.
Courses Main Dish
Recipe by gfe--gluten free easily at https://glutenfreeeasily.com/potpie/