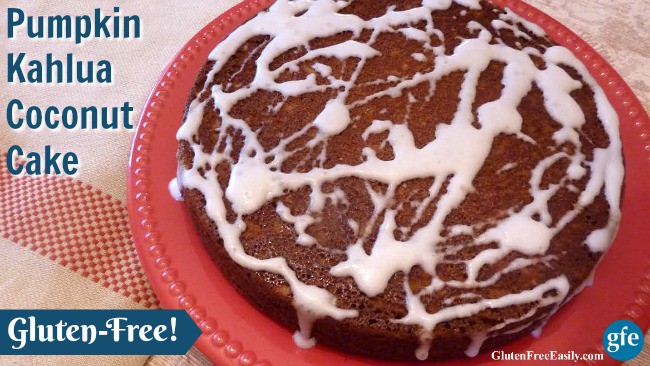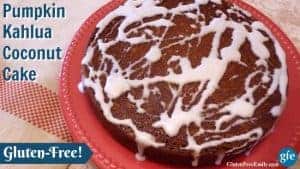 Pumpkin Kahlua Coconut Cake
You are going to love the flavor combination in this Pumpkin Kahlua Coconut Cake. This is one gloriously delicious cake!
Ingredients
Cake Ingredients
Drizzle Ingredients
3 tbsp powdered sugar
2 to 3 tbsp full-fat coconut milk (or dairy milk)
Instructions
Cake Instructions
Preheat oven to 350F. Grease a single 9-inch round cake pan well and set aside.
In a large bowl, add pumpkin puree and vanilla paste. Mix. Add coconut oil, granulated sugar, brown sugar, and Kahlua; mix. Add eggs and mix well. Stir in salt and baking soda. Gradually stir in flour, then coconut, until well mixed. Use a whisk if needed.
Pour batter in pan and bake at 350 degrees for 30 - 40 minutes. (Test with toothpick to determine if done.) Remove from pan immediately and cool. Serve plain, add drizzle, or frost (see notes).
Drizzle Instructions
Mix powdered sugar and 2 tablespoons of coconut milk. Add additional coconut milk a small amount at a time until you get a "drizzable" consistency.
Notes
Makes one single-layer cake.
You probably noticed that you add the eggs later than you normally would for a baking recipe. That's because you don't want the liquefied coconut milk (which might actually be olive oil that's hot in temperature) to cook the eggs when you add them. By adding the other ingredients before the coconut oil, the eggs are mixed in with the other ingredients and are not at that risk.
Another wonderful frosting option is this Penuche Frosting.If you're serving a crowd or want a cake that's as impressive in presentation as it is in taste, you can double this recipe and make a two-layer cake. For a two-layer cake, I recommend the Penuche Frosting or a classic Cream Cheese Frosting.
Courses Dessert
Recipe by gfe--gluten free easily at https://glutenfreeeasily.com/pumpkin-kahlua-coconut-cake/