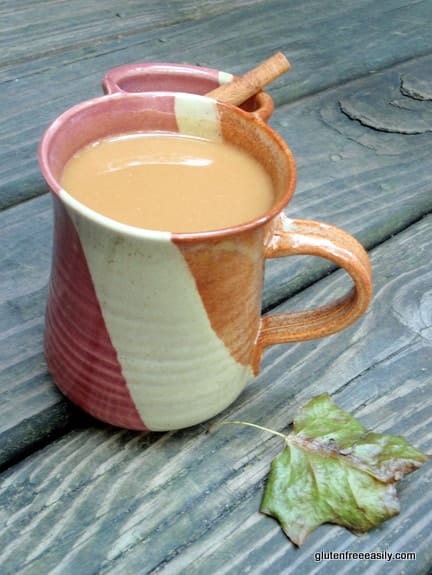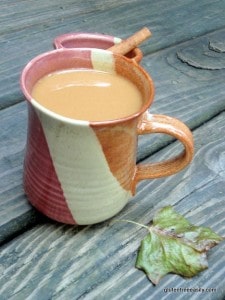 Pumpkin Kahlua Maple Latte
This recipe should be called Heaven in a Mug! It's a fabulous treat for Fall.
Ingredients
1 cup milk (dairy or non-dairy; I used unsweetened almond milk)
1/3 to 1/2 cup pumpkin puree (see notes)
2 tbsp (1/8 cup) maple syrup (more or less, to taste; Grade B is preferred)
¼ cup Kahlua (or strong brewed coffee, or both)
Instructions
For the stove top method, add milk to a small saucepan. Slowly stir in remaining ingredients, one at a time. Heat over medium to medium-high heat, for about two minutes or so, stirring frequently until sufficiently warm. Pour into large mug and serve.
For microwave method, add milk to large (oversized) mug. Slowly stir in remaining ingredients, one at a time. Microwave on HIGH for about one and a half to two minutes until sufficiently warm. Stir and serve.
Notes
Makes one serving.
If you want a lighter version (in taste and color) of this latte, use the lesser amount of pumpkin puree. If you're a pumpkin lover though, you'll want to use the greater amount.
You can use my Pumpkin Butter instead of pumpkin puree for a richer version of this latte!
I measured my maple syrup by filling my ¼ cup measuring cup that I used to measure the Kahlua only half way; hence, the mention of both 2 tbsp and 1/8 cup. Taste your latte before heating to see if you would like to make any adjustments to amounts.
Add whipped cream and/or cinnamon stick before serving for an even more special version of this latte. I don't like to leave the cinnamon stick in my latte. I just like to stir it with the cinnamon stick occasionally as I drink it so I only get a mild cinnamon flavor. (I don't want the cinnamon taste to take away from the heavenly Kahlua and maple vibe in this latte.)
I used my special mug (from our local Dirty Bird Pottery) that my mother-in-law gave me for Christmas last year. It's a mug that has a place for your tea bag. Surprisingly, either a tea bag or a cinnamon stick will "sit" quite well in the "holder" until one really tips up the mug to get the very last drop of one's beverage.
Courses Beverage
Recipe by gfe--gluten free easily at https://glutenfreeeasily.com/pumpkin-kahlua-maple-latte-heaven-in-a-mug/