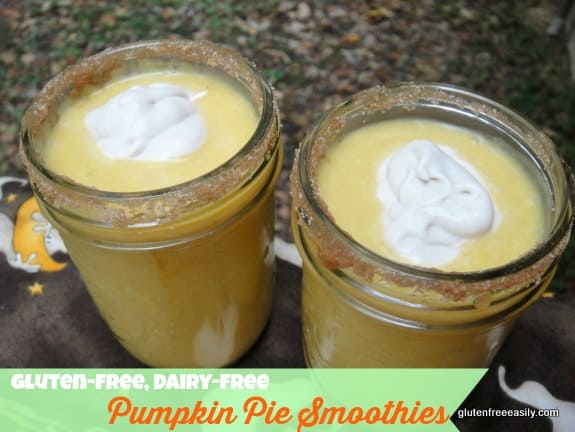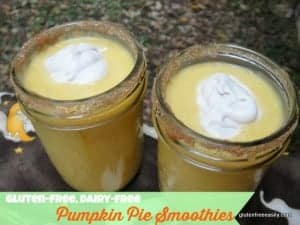 Pumpkin Pie Smoothie
I absolutely love pumpkin pie, but I don't always want pie. This Pumpkin Pie Smoothie does the trick for me though! Top with Honey Cinnamon Whipped Cream for the ultimate treat.
Instructions
Prepare glasses by dipping rims into shallow bowl of water and then cinnamon-sugar mixture.
Combine all ingredients in blender. Cover and blend on high until smooth, about 30 to 60 seconds.
Pour into prepared glasses or pint-sized Mason jars as I did.
Top with a small dollop of honey-cinnamon whipped cream or maple-cinnamon whipped cream. Serve.
Notes
This smoothie recipe was inspired by a recipe from the Mother Nature News Network. That recipe used pumpkin, evaporated milk, and yogurt only.
This smoothie recipe is more allergen-free and also packs more of a nutritional punch while still offering a luscious pumpkin pie-flavored treat.
Note that I used fresh pumpkin puree, which is lighter in color than canned pumpkin. Fresh pumpkin puree also has a higher moisture content than canned pumpkin, so if using canned pumpkin, you may need to add additional water to get your smoothie to the right drinking consistency. (FYI---I baked my sugar pumpkins whole this time, following the method that clever Kelly of The Spunky Coconut uses. Baking via that method yields the very beautiful pumpkins shown in the series badge.)
Chia seeds can be used instead of hemp seeds. I used hemp because it is less noticeable in the mixture. If serving this smoothie to children, hemp seed might be preferable.
If your ingredients for the smoothie aren't already chilled and your banana is not sliced and frozen, just add several ice cubes when blending to achieve the same effect.
However, Honey Cinnamon Whipped Cream does require chilling of coconut milk at least overnight, preferably longer, so plan ahead.
Be sure to dip your glasses into date sugar (or coconut sugar) and cinnamon to keep this smoothie refined sugar free.
Courses Beverage
Recipe by gfe--gluten free easily at https://glutenfreeeasily.com/pumpkin-pie-smoothie/