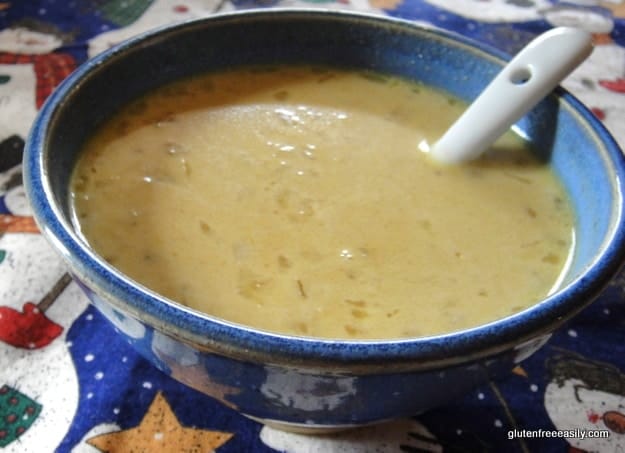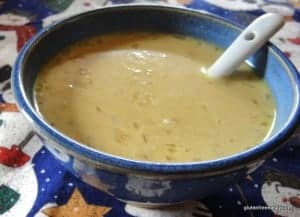 Veronica's Velvety Pumpkin Soup (Naturally Gluten Free)
Ingredients
1 onion, chopped fine
2 tablespoons butter (dairy or non-dairy)
1 large can (29 ounces) of pumpkin (or equal amount of fresh pumpkin puree)
4 cups gluten-free chicken broth
1 teaspoon ground ginger
1 teaspoon ground cinnamon
2 tablespoons brown sugar
1 12-oz can evaporated skim milk, regular evaporated milk, whole, or 2-percent milk (or dairy-free milk, such as coconut milk or almond milk)
Instructions
In a soup pot, sauté the onion in the butter until tender.
Add the pumpkin, broth, ginger, cinnamon, and brown sugar.
Simmer for about 20 minutes to blend flavors, then add the milk, heat through, and serve.
Notes
From Veronica: Because I normally use boxed broth, I don't add any salt. If you're using homemade broth, you may want to add salt to taste. Canned pumpkin may be denser and heavier than most home-prepared pumpkin, so you may want to adjust the amount of your liquids. If your pumpkin isn't pureed, you'll need to mash or puree it before adding it to the soup. This makes a thick soup with some texture as I serve it as an entree, not an appetizer. Those who want a lighter, smoother version may want to send it through the food processor and add a bit more milk at the end.
From Shirley: Because I'm usually the only one eating this pumpkin soup, I use a 16-ounce can of pumpkin (slightly more than half the original amount in Veronica's recipe) or 2 cups of fresh pumpkin puree. I also halve all the other ingredients. Using fresh pumpkin will result in a soup that's a bit lighter in color and taste and slightly thinner as well because of the water content in the fresh puree. I use regular evaporated milk or full-fat coconut milk because that's what I have on hand most often. If you'd like to serve a bread with this soup, my gfe cornbread, popovers, and paleo bread all make great accompaniments. They are simple and easy recipes that complement this soup nicely.
Recipe by gfe--gluten free easily at https://glutenfreeeasily.com/pumpkin-soup/