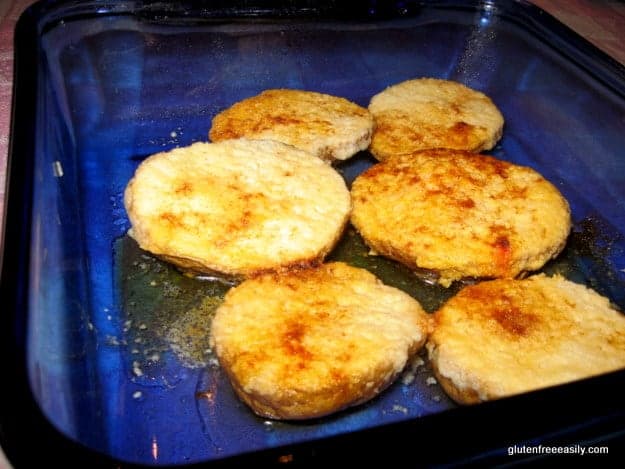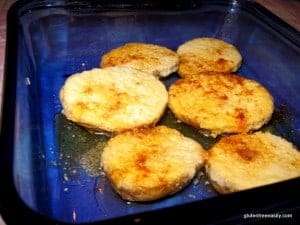 Quick and Easy Pan-Baked Potatoes
Yield 8 servings
This recipe is one I've relied on time and time again. It helps you get a delicious potato side dish on the table quickly. These potatoes are so good that some folks think they taste like Twice-Baked Potatoes!
Ingredients
2 tbsp butter (or margarine, dairy-free "butter," or oil)
¼ cup grated Parmesan cheese (or almond flour, gluten-free bread crumbs, gluten-free cornflake crumbs)
½ tsp salt
¼ tsp white pepper
4 medium potatoes (or larger potatoes cooked longer or cut to equivalent sized pieces)
paprika, to taste
Instructions
Melt butter in microwave-safe bowl (about 30 – 45 seconds on High). Set aside.
Stir together Parmesan, salt, and pepper in a separate bowl (one that is big enough so you can place your potatoes face down in it).
Cut potatoes in half lengthwise. Dip cut side of potato in butter, then in cheese mixture.
Place potatoes, cut-side up, in shallow microwave-safe baking dish or plate. Sprinkle with paprika, as desired. Pour any remaining butter over the potatoes.
Cook on High 10 to 12 minutes, or until tender.
Let stand 5 minutes before serving.
Notes
Potato halves make the loveliest presentation, but if making this recipe for your family, you can cut larger potatoes into smaller pieces for faster cooking and additional "crispy" edges. I like to poke my potatoes with a fork after I've cut them to ensure faster baking. You can easily adjust the recipe for more or less servings. Adapted from Kenmore Microwave Cooking
Recipe by gfe--gluten free easily at https://glutenfreeeasily.com/quick-and-easy-pan-baked-potatoes/