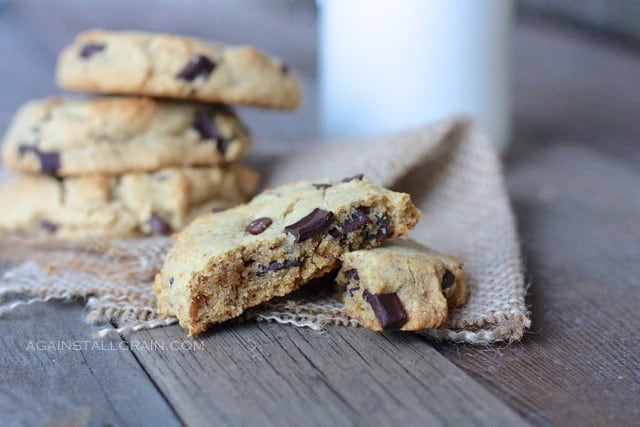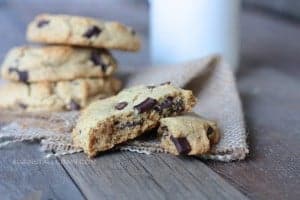 Paleo Chocolate Chip Cookies (aka Real Deal Chocolate Chip Cookies)
Danielle calls these Paleo Chocolate Chip Cookies the Real Deal Chocolate Chip Cookies for obvious reasons. That is, they don't taste like gluten-free chocolate chip cookies, they don't taste like grain-free chocolate chip cookies, they simply taste like real chocolate chip cookies!
Ingredients
¼ cup palm shortening or grassfed butter
¼ cup coconut palm sugar
2 tablespoons honey
1 large egg, room temperature
2 teaspoons vanilla
1½ cups blanched almond flour
2 tablespoons coconut flour
½ teaspoon baking soda
½ teaspoon sea salt
¼ cup dark chocolate pieces (just chop up a dark chocolate bar)
¼ cup Enjoy Life chocolate chips
Instructions
Preheat oven to 350 degrees F.
In a food processor, cream the palm shortening, coconut sugar, honey, egg, and vanilla for about 15 seconds until smooth and fluffy.
Add the almond flour, coconut flour, baking soda and sea salt and mix again until combined, about 30 seconds. Scrape down the sides of the bowl if needed in order to incorporate all of the flour. Pulse once or twice more.
Stir in the chocolate chips by hand.
Place golf-ball sized balls of dough on a cookie sheet lined with parchment or a SilPat. Using another sheet of parchment on top of the dough, flatten them slightly with the palm or your hand or a spatula. The cookies don't spread much so create the size and thickness you want prior to baking them.
Bake for 9-12 minutes, until slightly golden around the edges.
Notes
Serves one dozen. These keep best in an air-tight container in the fridge.If you don't have a food processor, put a couple of cups of your almond flour in a blender or coffee grinder and give it a few pulses. Careful not to go too far or you will have almond butter. Then make the dough in a stand-mixer or bowl with electric beaters.Measure the 1½ cups almond flour after you've ground it.If you plan to double this recipe, reduce the coconut flour by 1 teaspoon (so you would use 3 tbs + 2 tsp).I do not like these with coconut oil. Palm shortening makes them chewy. If you're going to sub it out, my first suggestion would be grass-fed butter.I like the flavor complexity with using 2 different types of chocolate, but you're welcome to use whatever you'd like.The palm sugar gives the cookies a "brown-sugar" like taste that the original chocolate chip cookie has. You can try using all honey, but because it is liquid, the texture and flavor will change slightly.Freeze-and-Bake Instructions1.Make the dough as described above2.Gather it into a large ball and roll it into a log3.Tightly wrap the log in parchment paper, then twist the ends to secure4.Freeze for up to 6 months5.Preheat oven to 325 degrees then slice off desired amount of cookies6.Place dough on a cookie sheet and bake for 15 minutes*cookies will hold their small round shape when baked this way
Courses Dessert
Recipe by gfe--gluten free easily at https://glutenfreeeasily.com/real-deal-chocolate-chip-cookies-from-against-all-grain-by-danielle-walker/