For affiliate links and as an Amazon Associate I earn from qualifying purchases.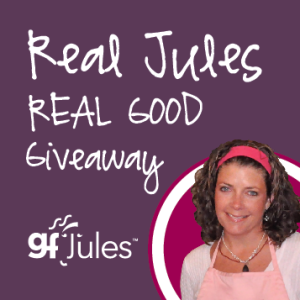 A while back I told you about my dear friend Jules Shepard forming her new company and I took a moment then to reflect on how much she has done for our gluten-free community. She continues to be one of our gluten-free gems! Although Jules has a new company, gf Jules, the company she previously founded also still exists and her fans/customers are getting confused because both companies have Jules in their name. Please know that Jules is not associated with the other company in any way and that company no longer offers her products.
So Jules and I want to make sure that you can find the Real Jules and her gfJules products, which she ensures are made to her standards. And she wants to introduce you to her much-loved products today via a giveaway! (more on that in a moment). Always look for a photo of Jules (like the one below from her gfJules site) before ordering her products to ensure you really are getting her products.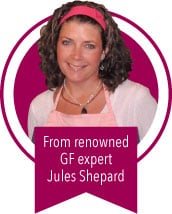 Free Holiday Ebook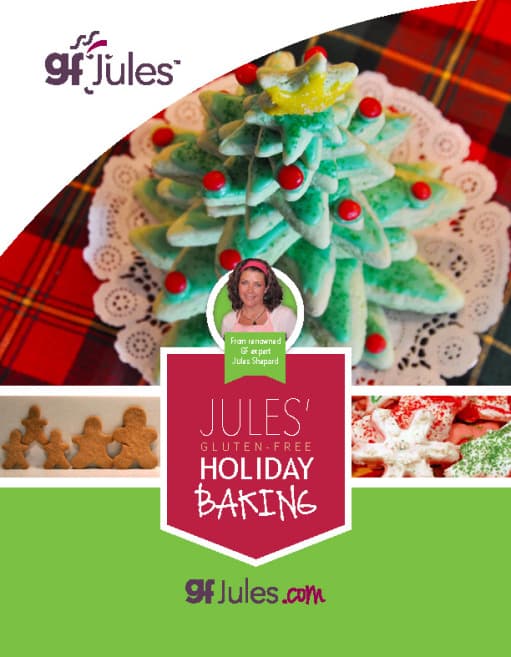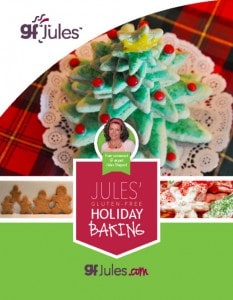 Jules has updated her Gluten-Free Holiday Baking eBook so that it is now 31 pages and includes 18 of the most sought-after holiday recipes (for example, Cinnamon Sticky Buns, Challah, and Gingerbread People), and tips and other helpful aids like stencils for making your own gingerbread house.

This ebook is valued at $10.95, but Jules is offering it free to you all when you use the following code:

gfjulesgfe547233d005ccf

After you add Jules' Gluten-Free Holiday Baking eBook to your cart on the gf Jules site, just copy (Ctrl-C) this code from above and paste it (Ctrl-V) into the box next to the orange "Apply Coupon" button in the gf Jules cart. (You can also paste it into the 3rd box at the top of the Checkout page).

Then click on "Apply Coupon" and the $10.95 price will be deducted instantly, making the book Free and downloadable on the next page showig Order Details.

Note that the Download link will appear immediately below the product item on the Order Details page. (No "purchase" is necessary, but this code will also work if you decide to buy products at the same time.)

The expiration date for this offer is midnight Monday, December 1.
Stay in Touch with the Real Jules

Be sure to check out and connect with the Real Jules online via the links below so you don't miss any news on her products (like announcements on new ones or special sales!), her recipes (there are over 350 recipes on her website), or really anything else she has to share (like news
The Giveaway
There will be FOUR winners. Two winners will each win a box of gfJules Gluten-Free Flour Mix and two winners will each win a box of gfJules Cornbread Mix . These gfJules products are gluten-free, wheat-free, dairy-free, nut-free, and soy-free – and NON-GMO! They're produced in a facility that's free of the Top 8 food allergens (milk, eggs, fish, crustacean shellfish, tree nuts, peanuts, wheat, and soy).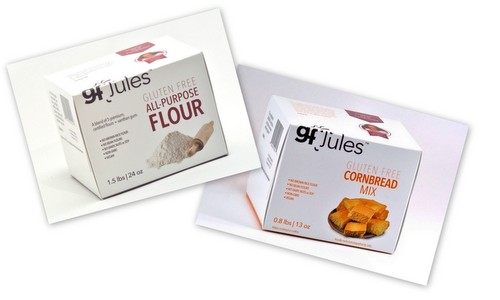 How great will either product be for both the last of your fall baking and, of course, for upcoming Christmas baking?!
This giveaway ends Monday, December 1, at midnight Eastern. Enter via Rafflecopter below, which shows all the rules and info. Note that there are a bunch of entry options, but only one entry is mandatory. If you're a winner, you will have 24 hours to respond to claim your prize.
(By the way, be sure to also enter my other giveaway of 38 gluten-free cookbooks and resource books with multiple copies being given away, so there will be 65 winners!!)
Disclosure:  This giveaway is jointly sponsored via gf Jules and gfe, however, the opinions expressed here are all my own.
Originally published November 23, 2014; updated September 25, 2017.