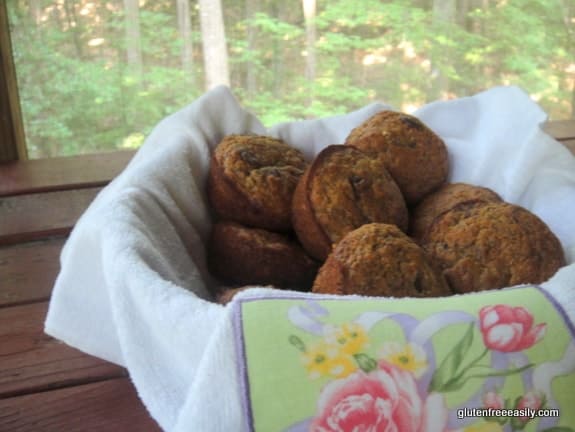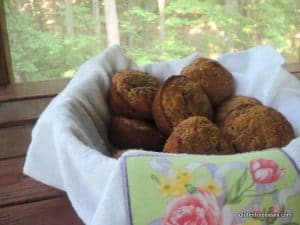 Banana Chocolate Chip Muffins (Gluten Free, Dairy Free, Refined Sugar Free)
Adapted from Ricki Heller, Sweet Freedom
Ingredients
1 cup mashed, ripe banana (about three bananas)
1/3 cup honey (use another sweetener for vegan option; e.g., agave nectar)
1/4 cup grapeseed oil
2 tbsp ground flax seed
2 tbsp water
1 tsp vanilla extract
1/2 cup millet flour
1/2 cup almond flour
1/2 cup gluten-free flour mix
1 1/2 tsp baking powder
1/2 tsp baking soda
1/8 tsp sea salt
1/3 cup dairy-free chocolate chips
Instructions
Preheat oven to 350 degrees Fahrenheit. Grease muffin tin for 10 muffins.
In large bowl, mix bananas, honey, oil, ground flax seed, water, and vanilla extract. Let sit for 2 minutes.
Then add flours, baking powder, baking soda, and sea salt. Mix a bit (without overmixing). Stir in chocolate chips.
Fill muffin cups 2/3 to 3/4 full.
Bake 25 to 30 minutes. Test for doneness.
Recipe by gfe--gluten free easily at https://glutenfreeeasily.com/review-giveaway-ebooks/